Film & TV
Spinning Plates
Director Joseph Levy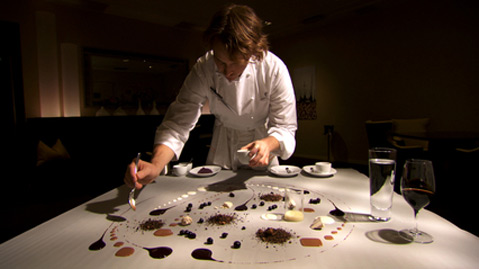 Spinning Plates is a great, heartfelt, and mouthwatering documentary. In it, Joseph Levy moves deftly between three restaurants and, by the end of the film — though it may discourage any sensible person from starting a restaurant — it will definitely induce a good cooking craving and appreciate its possible universality.
This is such a great film, its ideas don't seem to promise much, but it keeps paying off in information and emotional jolts. Did you plan it this way, or did it evolve naturally?
It was mostly planned. I knew from the start I wasn't making a film that had a narrative structure with a built-in engine, like one about a culinary competition where you follow your subjects as events unfold on a known clock. I really wanted to paint three scenes that gradually evolved throughout the film as the viewer moved beyond first impressions from the public to the private to the deeply intimate levels of each of the restaurants. And as those three scenes evolved, I wanted them to drift together as commonalities emerge.
For example, one might read an article on Alinea or see a picture of its food and dismiss it as "way out-there molecular gastronomy." Then you walk in the restaurant and slowly your senses are all thrown. Then you begin your dinner, which over the course of four hours evolves from a meal to a magical journey to an experience of a lifetime. Then, you might or might not find out sometime later that an epic story of survival that was playing out in the very kitchen making your food, and that food was a medium of support and a bond of love between chefs.
And then you might realize that your three favorite restaurants you've been going to for years might actually be going through similar struggles.
How did you pick the three restaurants, more like whim or logic?
I'd say it was mostly logical with a little bit of luck thrown in. I was specifically seeking out three archetypes that existed in my mind. Alinea was the easiest choice since I already knew Grant Achatz.
In 2003, I made a Food Network show called Into the Fire that looked behind-the-scenes at some of the nation's most renowned restaurants. At the time, Grant was the executive chef of Trio, just outside of Chicago. The dinner I had at Trio was the most incredible dining experience of my life (only to be surpassed by later experiences at Alinea), and at 29-years-old, Grant was a fascinating, driven character.
Several years later, he opened Alinea, which was soon named the best restaurant in the nation. Two years after that, Grant would receive a diagnosis thrusting him into a fight for his life. Grant is one of the most interesting and brilliant people I have ever met, and I really wanted to tell his story.
Breitbach's Country Dining involves a much larger cast and is about the incredible relationship between a restaurant and a town. I had never heard of Breitbach's prior to 2010, but I knew I was looking for something like a particular restaurant I grew up with in Corpus Christi, Texas. It was a place where community just happened around food. But Corpus has about 300,000 people and I wanted to find a place where the stakes were higher — where the restaurant was the heart of the town. Because of their 150-year-old history and some of the things that the restaurant and the town went through that are talked about in the film, it wasn't long before I found myself in Balltown, Iowa, a town of about 70 with a restaurant that seats 400 that on some weekends serves 2,000. But at the center of this family-owned legacy is a very special and beautiful relationship with its community, and an amazing story of how that relationship was put to the test.
The third restaurant, La Cocina de Gabby, was a very hard find and took months of searching. This is the story of a couple trying to save their home from foreclosure and keep their family together while providing for their three-year-old daughter. I feel it's a very important story to tell because it's incredibly prevalent and a very real snapshot of a part of the restaurant world that doesn't get shown.
One obvious conclusion of the film is its democratization of tastes. You give equal value to the three-star place and the diners. Was that a conclusion you reached during the process of making the film?
This was a deliberate choice (and belief) going into making the film. I have had amazing experiences inside Grant's dining room, and I have also shed a tear with a friend standing outside our favorite hole-in-the-wall Mexican restaurant in L.A. upon learning it was closed. Your most amazing memory of food might have been at The French Laundry, but it also might have been a burger you shared with your wife the day you proposed or a grilled cheese sandwich your grandmother made you when you were seven. There's no price point for those emotions.
What was the best dish you tasted while working and how much weight did you gain?
How can you choose a favorite child?! The fried chicken at Breitbach's was stunning… like think-about-it-constantly-for-24-hours-after-you-eat-it stunning. In the weeks it took to edit Gabby's story, I probably ate nothing but Mexican food and each day would try to figure out how to make the machaca she made me that I couldn't forget. And at Alinea I have had the single greatest dining experience of my life — and in particular I think of an Escoffier presentation of squab that's featured in the film as possibly the best food I've ever put in my mouth. And as for the weight… let's just say there's a reason I started boxing three times a week after making this film.
Spinning Plates screens on Sun., Jan. 27, 1:40 p.m., Tue., Jan 29, 4 p.m., at the Metro 4, and Fri., Feb. 1, 4:30 p.m. at the Lobero Theatre.