Film & TV
Quartet
Maggie Smith, Michael Gambon, and Billy Connolly star in a film written by Ronald Harwood and directed by Dustin Hoffman.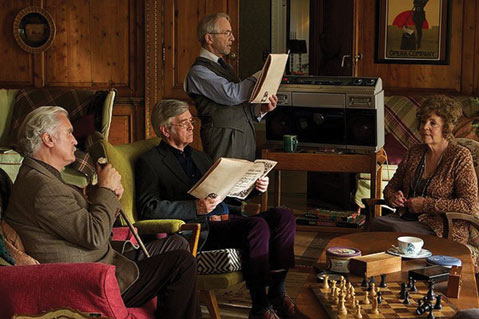 It's a sure bet that any movie made henceforth with a premise that growing old is not for sissies is bound to make a bundle. The movie-going baby boomers are heading inevitably toward old age, and a quick glimpse of the crowd that thunderously applauded this Dustin Hoffman directorial debut quickly confirms that they remember well when the director was a fresh-faced upstart. The Graduate is looking at retirement, and Santa Barbara audiences love what he found.
But Quartet isn't really a very good movie in all the old ways that matter, like conflicts and insights, for instance. The story, based on a play, concerns the willing inmates of a beautiful old house doubling as retirement home ("death's waiting room," as Jon Stewart might put it) for classical musicians and singers. The plummy gang is about to put on their annual gala when a new guest (Maggie Smith) arrives with mysterious reluctances and a romantic past. We wait to learn whether this cranky newcomer will turn the manor into the greatest show of all time or pathetic opera bouffe. (Or both.)
This film might have made a better television series: Fawlty Towers with Bach and Verdi in the background. Had it been fleshed out a little more, it might have been a nice companion piece to The Best Exotic Marigold Hotel. What's missing from Quartet is any real conflict or understandable drama, and by the time we do understand the situation, the movie ends and without any visual representation of expected payoff.
Fans of British acting, Downton Abbey, and bittersweet delirium humor will find this film enough to satisfy the articulate whimsy requirement. It also promises that the so-called waning years don't have to be free of romance, either. Hoffman, consummate actor that he is, knows how to frame these famous faces. They are fetching and the grounds are beautiful. Unfortunately, he just doesn't know how to make his movie sing.