Film & TV
Celebrating Amy Adams
2013's Cinema Vanguard Shared Laughs, Tears at the Arlington
We laughed. We cried. We even got a little song and dance. All in all, Thursday night's Cinema Vanguard tribute to Amy Adams played out a lot like its recipient's film work: equal parts poignant, funny, and filled with humility.
As moderator, Pete Hammond did a fine job providing a platform for Adams to let her hair down. A demure and modest star — and now four-time Oscar nominee — Adams made it clear from the get-go that she was no huge fan of self-congratulations, but, with Hammond to her left, she was able to nicely transition into an affable honoree.
Of course, therein lies Amy Adams' charm. She's a striking presence onscreen and one of modern cinema's most understated chameleons, but it's her humanness that has ultimately landed her at the top of Hollywood's A-list. Early into Thursday's celebration, Hammond pointed out that the SBIFF reserves its Cinema Vanguard honor "only for the risk takers," and it didn't take long for Adams to live up to her dubious new credit.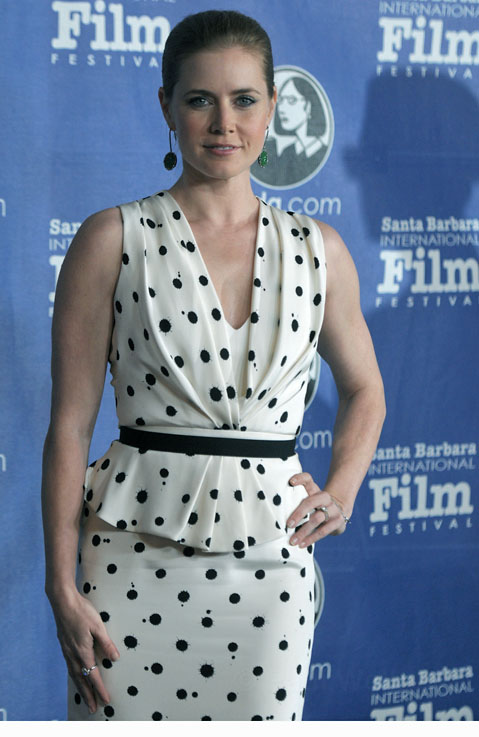 Following a short trip down memory lane — including the story about how a stint at Hooters landed Adams her first car — it was on to the movies. First came Adams' breakout role, starring opposite a young Leo DiCaprio in 2002's Catch Me If You Can. From there, we watched her first Oscar nodding: as Ashley in Phil Morrison's 2005 drama Junebug. Following a clip from what is arguably the film's toughest scene, in which Ashley lays crying in a hospital bed following a miscarriage, Adams found herself choking up, "not at my performance, but for all the women who've come up to me since that movie to tell me about how they lost a child," she explained. Needless to say, it made for the realest moment of the night, not to mention the most sobering.
Throughout the evening, Adams quietly championed her career as the scared girl. On kissing Leo, going toe to toe with Meryl, and belting her heart out onstage at the 2012 Oscars, she admitted to being "terrified." "I wanted to do a good job," she quietly recalled. "That was always my thing."
As the night rolled on and Adams got comfortable, she fessed up to the little white lie that helped her lock down the role of Sister James in 2008's Doubt. "I lied to play a nun," she laughed. She also divulged the key to cooking ("a good knife") while reflecting on her role in Julie and Julia.
Still, what stood out from Thursday's chat were the moments when Adams really opened up. On sharing lines and moments with The Master co-stars Phillip Seymour Hoffman and Joaquin Phoenix, Adams poignantly remarked, "When you have those intimate connections with someone you're not intimate with, it's a very special thing."
Fittingly, The Master's writer/director Paul Thomas Anderson was on hand to give Adams her trophy, and he infused the end of the evening with some of its biggest laughs. "If you ever want a handjob delivered with magnificent efficiency," he quipped, then gushed, "There's no expiration date on ole' Amy Adams, because she'll never run out of talent."
Here's hoping PTA's got his dates right.