Arts & Entertainment
Joshua Bell Tells All
The Acclaimed Violinist Talks Recitals, Programs, and Love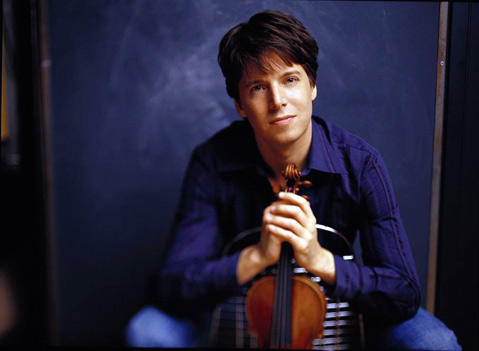 Very few classical musicians achieve the kind of name recognition that violinist Joshua Bell has enjoyed for decades. A classic prodigy, he made his debut at age 14 with the Philadelphia Symphony under the baton of Riccardo Muti. And since then, he has never looked back.
Sustaining a grueling schedule of approximately 140 concerts per year throughout several decades, Bell has still found time to create an extensive catalogue of first-rate recordings, and, in 2011, to become involved with the Academy of St. Martin in the Fields as its music director. Last year, Bell brought the Academy to the Granada for a concert featuring Beethoven's Seventh Symphony, which many Santa Barbara music aficionados heralded as the city's top orchestral performance of the year.
Now, on the eve of the release of a new Beethoven CD with the Academy, Bell is returning to the Granada, this time accompanied by longtime collaborator pianist Sam Haywood for a recital concert on Wednesday, February 20. As that rare combination of extreme virtuoso and seemingly regular guy, Bell attracts fans who follow him with a fervor that's downright 19th-century in its intensity. I spoke with Bell recently by phone as part of a publicity conference call, and he offered both insights into his musical choices and some juicy tidbits from his closely guarded personal life.
Has your new position with the Academy of St. Martin in the Fields influenced the other music that you make? When you are really engaged by the music, everything you do affects everything else. When you are playing with the top orchestras, it forces you to work on the details and the dynamics until they are perfect, and that changes you as a player.
How do you manage being such a busy musician and raising a child at the same time? Has that experience changed your perspective in any way? Yes, it is a challenge, especially now that I have three children — a 5-year-old and twin 3-year-olds. Although it's made the constant travel not as much fun, the children are really so great. As for how it has changed my perspective, I'll say that where I once didn't understand why my mother would get so involved in my playing, and even get annoyed with her over it, now that my 5-year-old plays the cello, I see it in myself, and I am beginning to understand how she must have felt.
Can you compare the recital setting with programming an orchestral concert? Sure. I have a particular love for the recital now because as a programmer, it allows me to balance one composer with others, and to create a kind of balanced meal. You can't always do that when you are the soloist with an orchestra.
For this program, I started with the Strauss sonata. It's something new in my repertoire, and now that I have started working on it, it has become a favorite. The melodies are so great. And then Schubert is on the program also, and he is probably the greatest melodist of all, so that's a good match. And then there's Prokofiev, to take us into the 20th century, with a sonata that I've played several times, but not in many years, so it's new again. My understanding of the Strauss is that it's very much about love. He was in love, and he wrote it when he was still very young. The sonata is right there with the [sonata by César] Franck in terms of having that kind of classic, heart-on-the-sleeve expressiveness. The slow movement is the real jewel, although all three are really good.
4•1•1
Joshua Bell and Sam Haywood perform at the Granada Theatre (1214 State St.) on Wednesday, February 20, at 8 p.m. For tickets and information, call (805) 893-3535 or visit artsandlectures.sa.ucsb.edu.