News
Montecitans Pull Rank on Caltrans
MA Challenges Carpool Plan, Sends Letter to Governor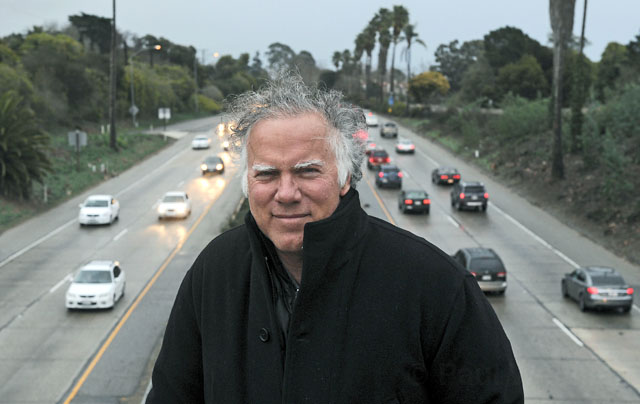 "This is not a Montecito problem," said David Kent, president of the Montecito Association (MA), about the project to add a Highway 101 carpool lane between Carpinteria and Santa Barbara. From agribusinesses in the north, whose shipping lanes would be impeded, to tourist destinations along the coast, whose potential customers would be frustrated away, the reverberations of a poorly executed plan would be felt throughout the county, he maintained. What separates Montecito, however, is that its residents have the time, resources, and connections to wage a war against the bureaucratic behemoth Caltrans.
In a mounting effort to do just that, Kent and Richard Nordlund, the past Montecito Association president, signed a Valentine's Day–dated letter addressed to Governor Jerry Brown asking him to consider design alternatives to the five South Coast 101 HOV (high-occupancy vehicle) Project options Caltrans introduced in its draft environmental impact review (EIR) this past summer. The MA is lobbying to keep the four fast-lane exit ramps at the Cabrillo and Sheffield exchanges and to begin the carpool-only portion of the third lane at Ortega Hill in Summerland, three miles east of the current proposal.
Caltrans would like to remove all of the fast-lane exits. As a general rule, the agency no longer builds them, citing safety concerns. But Kent and Nordlund wrote in their letter, "These left-hand ramps have fewer accidents per million vehicle miles traveled than most of the comparable right-ramps located in the adjacent Santa Barbara area." They base their claim on California Highway Patrol data and argue that the exits are used by locals, for the most part. Kent estimates that the MA has spent about $50,000 on the campaign so far, hiring consultants such as former U.S. Secretary of Transportation Mary Peters. When all is said and done, he expects to have shelled out twice that amount.
One of his most enthusiastic enlistees is Ron Pulice, scion of Pulice Construction, a Phoenix-based highway engineering and contracting firm that sold to a Spanish company in 2009 for $114 million. A resident of Montecito whose name may conjure generous contributions to area institutions, Pulice said he has overseen more than 100 operations the size of the lane-widening project. He figures that the project can be completed in two years ​— ​as opposed to the four years he predicted Caltrans would take — ​and at a $50-million savings, not to mention fewer costs to Montecito's business, beauty, and ecology.
Pulice also believes that Caltrans is banking on the ignorance of South Coasters to push through its project. A self-described business-friendly Democrat, Pulice asked rhetorically, "If we knew before we invaded Iraq that there were no WMDs, would we still have invaded?" but then answered his question by saying he hoped not. So he is lobbying businesses and organizations, proselytizing for the MA alternative.
Rather than cast Caltrans as malevolent Mongols trying to sack the South Coast's civilized beach cities, the MA has framed the state agency as a factory mass-producing "cookie-cutter" highways. "You have to realize that Caltrans is this very large bureaucracy," said Kent. "They gave [the South Coast 101 HOV Project] to their engineers that designed a freeway that wouldn't look any different if it had been put in the middle of L.A., or San Diego, or San Jose."
Caltrans project manager Scott Eades said that he and his colleagues worked with the community prior to the release of their EIR and that they have made design exceptions. They even added two new exchange configurations, but both still abolish the left-lane ramps. He conceded that Caltrans does not see "eye to eye" with the MA on "viable long-term options," but ​— ​at the direction of the Santa Barbara County Association of Governments ​— ​Caltrans is assessing the MA proposal. "We are essentially taking their concept and designing it to the same level we did with the other proposals," he said. Caltrans wants to wait for the completion of that process before commenting on any conclusions.
The one element of the MA alternative that has received some blowback is a southbound onramp at Los Patos Way, although Pulice said that the ramp is not vital. Businesses there are afraid that they'd be crippled by snarled traffic. The City of Santa Barbara is not too thrilled with that idea either. On the other hand, transportation planner Rob Dayton said the city has always been in favor of keeping the fast-lane ramps. Santa Barbara would also want to add a lane and bike path on Cabrillo Boulevard underneath the Union Pacific railroad to accommodate a new southbound ramp, hopefully as part of the lane-widening project.
—
CLARIFICATION
After this article was published Thursday morning, Rob Dayton, the City of Santa Barbara's Principal Transportation Planner, sent this email to city councilmembers and others:
Be advised that I was miss-quoted in the Independent today– "Rob Dayton says the city has always been in favor of keeping the fast-lane ramps." This is incorrect. The City of Santa Barbara Planning Commission is on record supporting a traditional-style diamond interchange at Cabrillo. The left-side ramps are not permitted by Caltrans for safety reasons.
I was merely acknowledging the Montecito Association and other concerned community member's 'idea' to leave the ramps to save money and protect the aesthetic quality of the area – good reasons. The 101 Project Team, which includes Caltrans, had the same idea with the recently completed widening project between Milpas and Cabrillo interchanges. That project extended three lanes southbound over Cabrillo Boulevard and retained the left-side southbound off-ramp. The 101 HOV project team looked at doing the same. This is no longer possible because Caltrans can no longer support the left-side ramps.