Arts & Entertainment
Cold War Kids at SOhO
The L.A Band Gave Fans a Sampling of New Songs on Saturday, February 23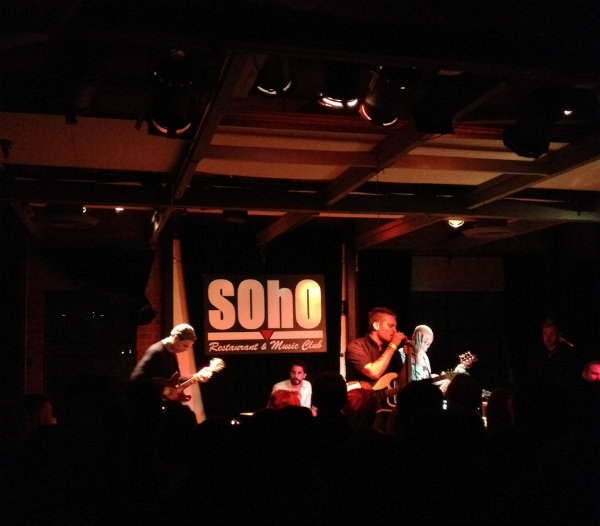 What must it be like to pen a hit single? Creating a song that's smart, solid, and infectious is something that most musicians spend their entire life trying to accomplish. Yet, once it happens, that one song becomes your calling card, and more often than not casts a shadow on the tracks (and albums) that surface in its wake.
Take, for example, Cold War Kids. The L.A.-by-way-of-Fullerton band has been going strong for nearly a decade, but still can't seem to shirk the shadow of 2007's "Hang Me Up to Dry." In defense of the song, it's still as driving, catchy, and sing-along-able as it was six years ago. But as far as Cold War Kids are concerned, it's also just a fraction of what they can accomplish; a point the band drove home over the course of their recent sold-out gig in Santa Barbara.
As part of a West Coast tour in support of their forthcoming fourth album, Dear Miss Lonelyhearts, the band spent the majority of their Saturday night show at SOhO testing out new jams, which beautifully expanded upon the piano-pounding riffs that long ago became their signature. With an additional guitarist/auxiliary percussion player in place, frontman Nathan Willett, bassist Matt Maust, guitarist Dann Gallucci, and drummer Matt Aveiro charged through a 17 song set list that included unreleased songs like "Loner Phase," "Water and Power," and "Jail Birds." At the start of the set, Dear Miss Lonelyhearts' lead single "Miracle Mile" helped bridged the gap between the old and the new. For it, Willett's yelping vocals leapt gracefully over a wall of crashing cymbals, swelling keys, and Gallucci's expansive guitar hooks. Later in the set, synth-tinged offerings like "Loner Phase" and "Water and Power" nicely played off the band's older creations, with the electronic elements coloring, rather than overtaking CWK's soulful roots.
Of course, the hits also peppered Saturday's set list, and for many in the crowd they were the hands-down highlights of the night. Early on, "Mexican Dogs" and "Audience" had fans hooting, hollering, and waving cell phones in the air. Later, "Louder Than Ever" and "Hang Me Up to Dry" brought fans to near-ecstatic celebration, with casual attendees flocking onto the dance floor to take it all in. That the capacity crowd seemed to dip in and out of the show throughout the rest of the set was perhaps only bothersome to some, but for me it pointed to the problem faced by bands that have hit the radio single jackpot. By industry standards, Cold War Kids may always be called The "Hang Me Up to Dry" Band. But if Saturday was any indication, these Kids are just starting to hit their stride.
Set List:
1. "Dear Miss Lonelyhearts"
2. "Mexican Dogs"
3. "Miracle Mile"
4. "I've Seen Enough"
5. "Audience"
6. "Minimum Day"
7. "Louder Than Ever"
8. "Loner Phase"
9. "Rubidoux"
10. "Cold Toes"
11. "Water and Power"
12. "Hang Me Up to Dry"
13. "Relief"
14. "Jail Birds"
15. "Royal Blues"
16. "Fear and Trembling"
17. "Vacation"