Arriving in Santa Barbara at the height of a season blessed with more than its share of great violinists appearing in recital, Joshua Bell nevertheless easily confirmed his spot at the top of the heap. With this concert, Bell demonstrated once again that he has the right touch when it comes to programming that bridges the gap between intellectualism and popularity.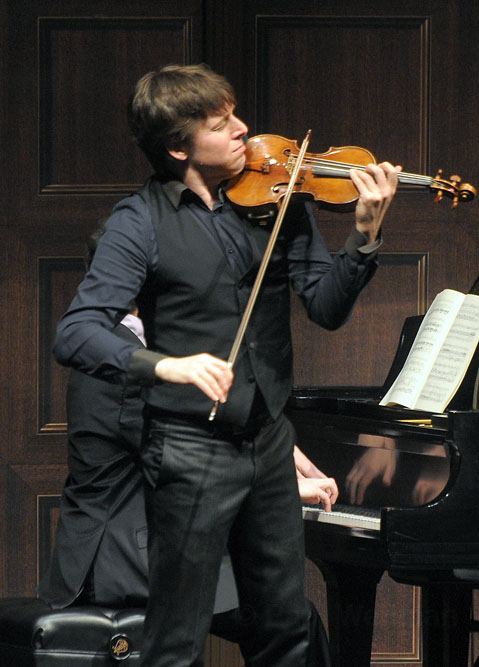 He opened with the Sonatina in A Minor, D. 385 of Franz Schubert, which served as an excellent introduction to the evening and to Sam Haywood's piano playing, which is sharp, rhythmically astute, and intuitive enough to allow Bell every imaginable advantage when it comes to stretching a phrase or delaying an entry for emphasis. Next up was the Sonata for Violin and Piano in E-flat Major, Op. 18 of Richard Strauss. Strauss wrote very little chamber music and gave it up completely soon after writing this piece, but it remains a significant work in the violin repertoire and one of the best examples extant of what having something new to say in the genre after Beethoven might sound like. Bell's supple, elastic approach never flagged or rushed, and Haywood helped him build drama at all the right moments.
After intermission, the pair returned for Sergei Prokofiev's Sonata for Violin and Piano No. 2 in D Major, Op. 94 and for two nifty encores. The Prokofiev, which was originally composed for the flute, has to be one of the most listenable of all violin sonatas; its slow movement is full of gorgeous chromaticism, and the finale overflows with breathtaking fortissimo double-stops. For his two splendid encores, Bell chose contrasting works — the gentle "Après un rêve" of Gabriel Fauré, and the thrilling, somewhat outlandish virtuosity of the Introduction and Tarantella of Pablo de Sarasate.
The Granada audience could not have been more pleased had the great 19th-century violinist and composer himself returned from the hereafter to play it.