Theater
Farce of the Week: Present Laughter
The Santa Barbara City College Theatre Group Does Noel Coward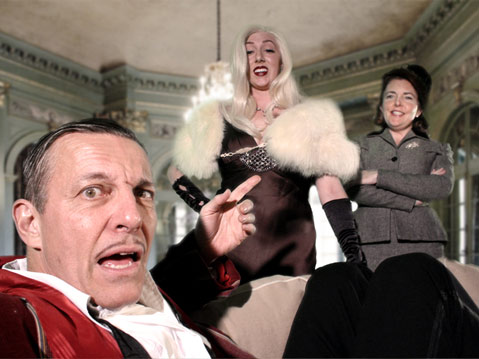 Although Noel Coward, the great British playwright and bon vivant, died in 1973, he continues to exert an influence on culture that's out of proportion to his chosen genre of light comedy. Responsibility for this "Coward effect," which extends to such contemporary icons as Family Guy's Stewie Griffin, can be laid squarely at the feet of his unforgettable persona, which was a comic mixture of Oscar Wilde and David Niven — the lovably untrustworthy and lustful camp actor. Present Laughter, which opens at SBCC's Garvin Theatre on March 8, is Coward's most autobiographical work, even though, as director R. Michael Gros informed me, "There's nothing in the least naturalistic about it." Coward even played the leading role of Garry Essendine in the original production, and he gave to this aging matinee idol many of his own qualities — wit, charm, and an appetite for romantic entanglements without regard for their consequences.
For this production, the Theatre Group at Santa Barbara City College is pulling out all the stops. It's on the big Garvin stage, with a lavish set by Patricia Frank and stunning period (London, 1946) costumes by Pamela Shaw. The Los Angeles–based actor Arthur Hanket, who will play the part of Garry Essendine, has a distinguished record in both New York and regional theater, with particularly relevant experience as Joe/Josephine/Junior in Some Like It Hot. As Essendine, the London theater actor with many irons in the fire, Hanket will have his hands full dealing with Isabel Nelson as the seductive wife of his producer and Katherine Bottoms as an attractive and infatuated ingénue.
Gros describes Present Laughter as "an English version of a French bedroom farce" and promises both the inside theater jokes of a backstage drama and the hysterical comings and goings (and hiding in closets) of vintage comedy. "The central character eventually has to not only look at himself in the mirror but also ask that difficult question, who am I?" said Gros. But because this is Noel Coward, he does so with a smile and a great one-liner.
Present Laughter opens at SBCC's Garvin Theatre on Friday, March 8, and runs through March 23. For tickets and info, visit theatregroupsbcc.com.