Living
Making Sense of Mammoth
Why Skiing Costs So Much and How to Cut Back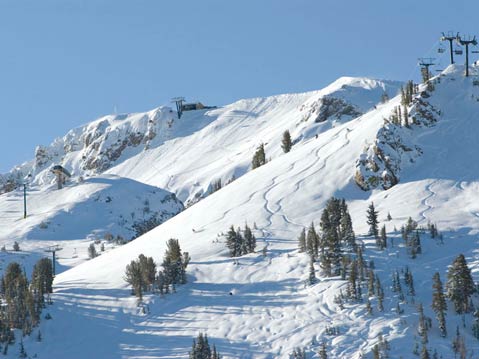 Amid the swooshing sounds of snow being sliced, excited "yee-haws" from happy powder shredders, and constant hum of the gondolas overhead, there's been a distinctly less-than-stoked chorus increasingly emanating from the slopes in recent years: Why do lift tickets cost so much? Though the question has been asked by cost-conscious skiers for decades — it's all relative, of course, not to mention tied to inflation — current prices at some resorts are tipping into the triple digits, and the trend shows no signs of abating, especially for the major mountains of Colorado, where Vail is now $129, and California, where Heavenly charges $106 at the window.
Now in the triple-digit club is the highest advertised rate ($105, during peak season) at Mammoth Mountain, which is easily the biggest and best place to ski within a six-hour drive of Santa Barbara and, some would say, the shining star of the entire Sierra Nevada range (I've even heard Lake Tahoe locals admit as much). So with a fresh trip to Mammoth two weekends ago still on my mind — a bit windy on Saturday, but that made for some blown-powder patches, and then a beautiful bluebird day on Sunday, when crowds had dwindled nicely — it seemed like an opportune time to figure out what you're paying for when you fork over such serious cash.
Unfortunately, there's no easy answer. "We don't really have any statistics or a set formula for that," said Mammoth's public relations manager Deena Betcher. "Mostly, what we charge is related to our superior experience that we provide to our guests. … We have 28 lifts and 3,500 skiable acres, and all the manpower, and electricity, and essentials. The price is reflected in that."
Generally speaking, Troy Hawks, of the National Ski Areas Association, credits the rising prices to technological developments like high-speed chairs that allow for more runs in a day, snowcat groomers that open more terrain, and advanced snow-making techniques, which allow for longer ski seasons. "You'd have a hard time skiing nonstop on a high-speed chair from 8 in the morning 'til 4 in the afternoon, but if you do, you've gotten a lot more than a triple-digit experience in my opinion," explained Hawks, who said that it's a constant "balancing act" for resorts to innovate while offering a range of prices. "In the '80s, it would have taken all day for that experience. I'm lucky to ski past noon."
The high prices are also serving to push guests toward considerably cheaper multiday packages, as well as deals offered by booking in advance and online. "The lowest prices can be found online or when you purchase in advance," said Betcher, which makes it easy to find deals via mammothmountain.com, where buying more than two weeks in advance saves the most money. And it doesn't hurt to know a season pass holder, as they can accumulate points that allow friends to purchase $69 tickets.
Even if you get stuck paying top dollar for the lift tickets, there are ample ways to cut down on other costs of a ski weekend. On our recent trip, we crammed into as few cars as possible to save on gas, packed enough folks into our condo to bring per-night costs down to $50 each, and also — perhaps the biggest cost-saver of all — brought all of our own food, beer, and wine for the weekend. And on the way out of town, some of our crew got the best deal of all: a post-slope dip in the nearby hot springs, completely free of charge.