Arts & Entertainment
Wynton Marsalis and His Lincoln Center Orchestra
Jazz at Lincoln Center Orchestra Celebrates 25 Years of Great Music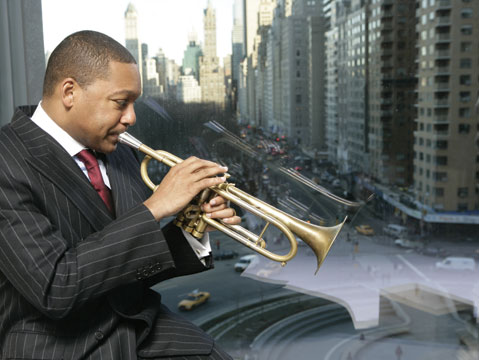 When Wynton Marsalis founded the Jazz at Lincoln Center program in 1987, it was conceived as programming for the hot, humid summer months in Manhattan and as a jazzy counterpart to the annual Mostly Mozart Festival that remains the classical music staple of Lincoln Center's summer seasons. Twenty-five years have passed, and Jazz at Lincoln Center has changed and grown in ways that not even Marsalis — who dreams big — could have imagined. The Jazz at Lincoln Center Orchestra became a year-round repertory group, and then, through a series of commissions, performances, and recording projects, the organization expanded even further, so much so that in the early 2000s, Jazz at Lincoln Center outgrew its footprint on the original Lincoln Center campus and became the first Lincoln Center music organization to launch its own separate venue.
When JALC's permanent home opened in 2004, it was as part of the new Time Warner Center on Columbus Circle, an ultra-glamorous corporate-headquarters complex that is also home to some of New York's finest restaurants and priciest condos. Thanks to Marsalis and his organization, three stunning performance spaces in the Time Warner Center are now dedicated entirely to jazz — the Rose Theater, The Allen Room, and Dizzy's Club Coca-Cola. In this new location, and with a commitment to year-round programming and education, Jazz at Lincoln Center on Broadway and 60th Street instantly became the world's premier home for jazz.
This Sunday, March 10, on the last night of UCSB Arts & Lectures' two-week winter festival, the 15-piece Jazz at Lincoln Center Orchestra will hit the stage at the Granada Theatre with Marsalis at the helm and a quarter-century's worth of memories, charts, and thrills in tow. Last week I spoke with longtime JALC Orchestra member, saxophonist, and composer Ted Nash about what it means for the band to turn 25 and what kind of a night fans can expect when the group rolls into town later this weekend.
Will you be playing traditional works by composers like Duke Ellington or will this concert feature newer music? There will be a little of both. Of course, "all jazz is modern" as Wynton likes to say, so it's not like the Ellington would sound old-fashioned, at least not the way we play it. There will be a retrospective element to what we do, but largely in relation to the band, because we're celebrating its 25th anniversary — 25 years for the Orchestra and 15 years in it for me.
Congratulations. How has the group changed in that time? In lots of ways, but certainly one of the most important has been that it has developed as a place for players who compose and arrange. I've never been in a group with more artists who can do it all, and I'm a founding member of the Jazz Composers Collective, so that's saying something. With all the years that most of us have been together now, there's a real through line to what we do, especially with these great arrangements. They really show the players at their best.
What's the deal with the Jazz at Lincoln Center and Santa Barbara City College coming together to create a summer jazz institute here? It's happening, and I am signed on as the artistic director. You'll be hearing a lot more about that soon.
4•1•1
The Jazz at Lincoln Center Orchestra performs at the Granada Theatre (1214 State St.) on Sunday, March 10, at 7 p.m. Call (805) 893-3535 or visit artsandlectures.sa.ucsb.edu for tickets and information.