Visual Arts
Angkor Box
Mary Heebner's Extended Books
ANGKOR BOX: Simplemente Maria Press is the casually self-effacing name under which Mary Heebner has pursued an ever-widening circle of global interests, artistic practices, and meaningful materials since 1995. In Mary Heebner: A Survey of Artist's Books from Simplemente Maria Press (1995-2013) and the Paintings That Inspired Them, a new exhibition at the Leatherby Library at Chapman University in Orange, California, the full extent of this fascinating and beautiful 18-year phase of Heebner's career gets its first proper close-up. And, as one would expect from such a prolific creator, there's another chapter making its debut this year. It's the "Silent Faces/Angkor" box, a kind of extended artist's book that's written, printed, and painted across a variety of media, including a traditionally printed fine book, an accordion fold print, and a series of Chinese-style painted scrolls, all of which are carefully nested into a custom carrying case/display box.
The project began when Heebner visited Angkor Wat, the sacred site in Cambodia, and began a series of drawings of the stone faces carved on the temple walls there. The drawings were only one aspect of Heebner's research and absorption in the stories of Angkor. She's also a writer and an extraordinarily knowledgeable global traveler with decades of experience, able to shift easily through the lenses of art, mythology, anthropology, and history to arrive at a complex composite vision of a culture. In this instance, her focus is on the myth of the naga and the apsara, an ancient Cambodian creation myth in which the sea serpent naga churns the ocean until the beautiful dancing goddesses known as apsaras burst into existence from out of the sea's foam. "Any struggle yields an 'aha' moment," as Heebner told me by way of interpretation. In addition to the triply transformed and ravishing images of the stone faces that now adorn the project's four scrolls, Heebner completed a series of crisp, Matissean sketches of the dancing apsara that run throughout the package as a motif, printed on thick, lush paper in one iteration and watermarked into more delicate sheets elsewhere in the box.
For Heebner, every decision in a project like "Silent Faces/Angkor" becomes another reason to collaborate, and as her network of fellow artists and craftspeople expands, these boxes take on the depth and radiance of a kind of portable community. Like Marcel Duchamp, who also devoted significant energy to creating what he considered to be traveling museums, Heebner invests the details of her exquisite objects with multiple layers of narrative.
Environmental historians have a concept called the "portmanteau biota," which refers to the idea that European colonists would try to transplant entire ecosystems onto the landscapes that they encountered. For Heebner, these artistic "portmanteaux," or carrying cases, contain not the living organisms necessary to re-create some certain environment but rather a carefully chosen set of images, ideas, and aspirations that point the way toward a better relation with the environment we already have.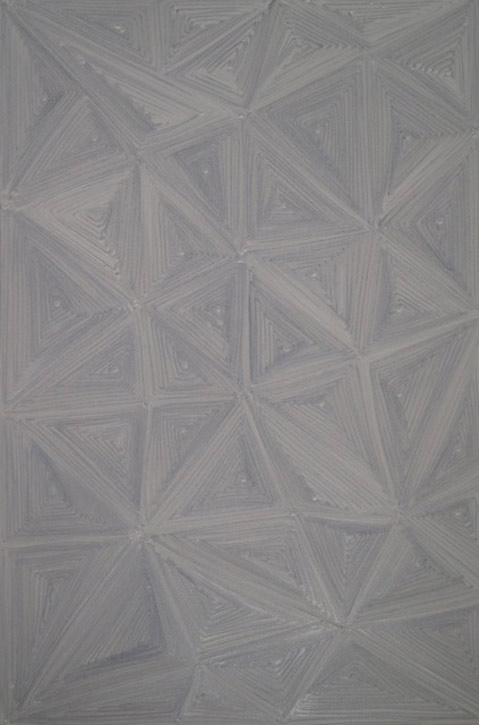 "WHITE WORD": Meanwhile, over in the Funk Zone, I just saw one of the most impressive paintings of the season. It's called "White Word," it looks a little like a Jasper Johns, and right now it's propped against the wall in Skye Gwilliam's studio. Gwilliam, who lives and paints in an enviably hip remodeled building on Gray Avenue that used to be a dance studio, has two shows worth talking about, one in Ventura that runs through the end of March at the Bell Arts Factory, Studio 30 (432 N. Ventura Ave.), and another in his own Gone Gallery space April 5-May 25. Stay tuned for more on this and other funky art developments.