Film & TV
Oz the Great and Powerful
James Franco, Mila Kunis, and Rachel Weisz star in a film written by David Lindsay-Abaire and Mitchell Kapner and directed by Sam Raimi.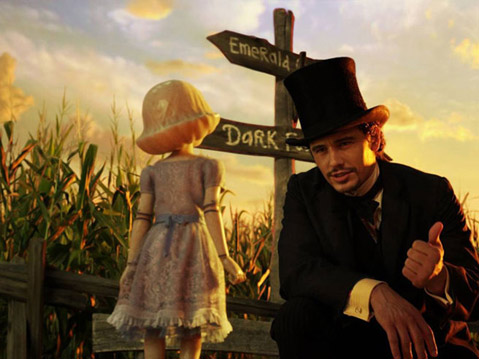 Whatever the occasional charms of this latter-day Oz spin-off are, including the visual bedazzlement and CGI wizardry unavailable at the time of 1939's Wizard of Oz and some fetching female screen work (good witch, bad witch, and otherwise), it's hard to escape a sense of a lesser being trespassing on sacred cultural turf. The world that L. Frank Baum created, and that the great American classic Wizard of Oz turned iconic in cinematic history, is nothing to trifle with. Director Sam Raimi and his allies are messing with cultural Mother Nature here, and stumbling.
Raimi and company offer genuflection aplenty to the original film, including a narrative schematic in which a humble early-20th-century Kansas story, in black-and-white, is swept up into fantasyland and the resplendency of color, munchkins, and Emerald City. Our Oz, anything but great and powerful, is a shabby circus magician in Kansas with dreams of glory, transported via twister power to the land of Oz. Suddenly, the film hums and bustles into color, like Technicolor meets Baron von Munchausen, as does a presumed-to-be salvation-delivering wizard in this wonderland peopled by truly wizardly women (Michelle Williams, Mila Kunis, and Rachel Weisz, who have great fun with their roles, as do we on the receiving end).
Unfortunately, James Franco's Oz Doesn't appear to be having as good of a time. Franco, an actor whose seeming self-absorption and snake-oiliness can tend to sully his characters, is the wrong man for the job. He's got the charlatan-dilettante vibe going, but one wonders if the project's intended lead, Robert Downey Jr., might have better captured the fragile hokum-meets-grand-intentions of the would-be-good wizard. What we're left with in this film is not only dramatic drudgery in the plot department but also enough sensory sensationalism to keep us interested when other elements fail.
There will be other Hollywood pretenders to the Oz throne, no doubt, and, hopefully, some will get it right — no such luck this time. Just as Tim Burton treaded on dubious soil with his Lewis Carroll–shaming Alice in Wonderland, Oz the Great and Powerful is a meager, tarnished slickster visit to Oz, with nothing much going on behind the curtain.