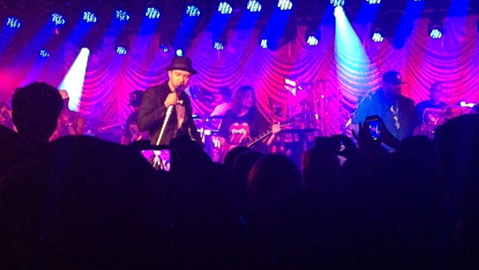 Saturday brought more music, more surprises, and more revelry to the streets of downtown Austin this past weekend. The final "official" night of South by Southwest (and the lead-in to Sunday's St. Patrick's Day festivities) meant packed streets, packed clubs, and a whole lot of fans itching to get a glimpse of Justin Timberlake's not-so-secret show at Myspace's 5th street headquarters. JT's intimate 800-cap club show was the buzz of the day, with fans swarming around the barricaded building pretty much all afternoon in an attempt to get past the velvet ropes.
Meanwhile, up the road, Captured Tracks hosted a label party featuring a diverse collection of sets from pop folkie Chris Cohen, Montreal post-punks Soft Moon, and South By rabble-rouser Mac DeMarco.
As for the night's closers, it was a battle for top-billed acts, as Timberlake went head-to-head with Prince, who showed up at Samsung Mobile's party, and Vampire Weekend, who filled Stubb's outdoor venue to the brim.