Arts & Entertainment
Getting to Know FIDLAR
L.A.'s Favorite Punkers Play Velvet Jones with Wavves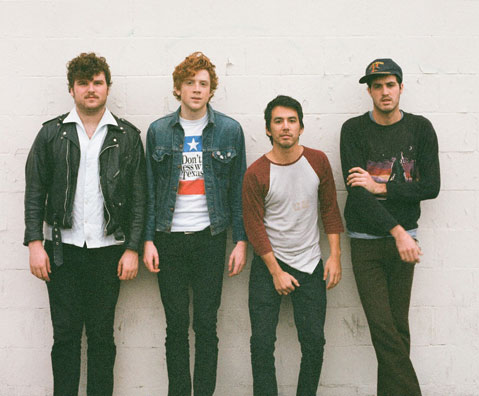 Forget YOLO; 2013 is the year of FIDLAR. What is FIDLAR? Well, first and foremost it's a way of life, an acronym that stands for the slogan "Fuck It Dog Life's a Risk." It's also the moniker adopted by what is fast becoming L.A.'s favorite new musical export. Since forming in 2010, the band known as FIDLAR (made up of guitarist/frontman Zac Carper, guitarist Elvis Kuehn, bassist Brandon Schwartzel, and drummer Max Kuehn) has been stirring up all sort of attention, thanks to a potent combination of unapologetic garage, pop, and punk rock. Most recently, they unleashed their self-titled debut, a gloriously loud, brash ode to slackerdom that includes songs titles like "Stoked and Broke," "Cheap Beer," and "Wake Bake Skate." You get the idea.
This Saturday, FIDLAR heads to Velvet Jones, where they'll open for those other SoCal pop punkers, Wavves. Recently, Schwartzel checked in from the band's European tour to talk house shows, stolen beers, and why he loves L.A.
You guys got your start playing house shows. Was that something that existed a lot for you growing up? Yeah, we've always loved going to house parties and DIY shows — you can bring your own drinks or drugs, there's no security, and they're free. Also for those same reasons, house shows are always rowdy ones to play.
As performers, how would you compare playing houses to smaller clubs? For us as a band, we play the same way regardless of the venue. The one thing that gets tricky with house parties is that usually your gear gets fucked up, but now that's starting to happen at clubs, too, because kids just rush the stage. I guess our gear is fucked regardless.
Do you feel like those experiences had an effect on FIDLAR's sound when you were coming up? Definitely — that's pretty much how we all got to know each other. How we became a band was from going to parties and playing shows.
You guys had amassed a pretty solid following long before the LP. Sound-wise, how did you approach the recording sessions for the record? Well we recorded and produced the record ourselves at Zac and my house in a studio that we all built, with gear that we collected, so I guess our approach was just to put as much of ourselves into our record as possible. A lot of the songs had been songs that we'd been playing live for a long time. We just wanted our first record to be a good introduction of who we are as a band, I guess.
Were you concerned about trying to capture the live show on an album? I think we were more trying to just capture the energy and attitude of our band. We like having our live show and recordings to be unique on their own but to still give the audience the same vibe.
What do you hope people take away from the live show? That kids just have a good time and forget about all their everyday bullshit for a little while.
What was the wildest FIDLAR show in recent memory? We're actually finishing a European tour right now, and we had a crazy show in Bristol. It was this really small venue, maybe 125 cap[acity], and the crowd was going crazy, throwing beer everywhere, and someone spilled a beer on the power amp and shorted out all the power in the venue. Max just kept playing drums (the only thing you could hear) and then everyone rushed the stage and started singing along to the drums and finished the song. Then after a while, the power came back on, and everyone left the stage. But all of our booze we had on stage was gone, which normally you'd be mad about, but if the roles were reversed and I had just got onstage, I totally would've stolen as much booze as possible.
Are there any cities/states/scenarios where the show has flopped? We played a really bad show on the Sunset Strip once in L.A., but that area fucking sucks anyways.
You guys seem to really embrace your L.A. roots. Why do you think the city gets such a bad rap? I mean, I love L.A. more than anywhere, but there is no denying that there are tons and tons of assholes there. But that's kind of anywhere you go. I think people don't really give L.A. a chance. You've kinda got to spend some time to really get to know it. Then when you find your pocket, it's the best place.
People tend to associate FIDLAR with a pretty hard-partying lifestyle. What does an average tour night look like for you guys nowadays? Cucumber melon ice masks and seaweed wraps followed by band pedicures.
4•1•1
FIDLAR plays Velvet Jones (423 State St.) on Saturday, March 23, at 7:30 p.m. with Wavves and Cheetahs. For tickets and info, call (805) 965-8676 or visit newnoisesb.org.FIDLAR have cancelled their Santa Barbara show. Wavves plays Velvet Jones with Cheetahs on Saturday, March 23 at 7:30 p.m. Call (805) 965-8676 or visit newnoisesb.org for tickets.