News
Easter Bunny
Bunnies Aren't for Everyone, but Is One Right for You?
Next Sunday, many well-intentioned parents will purchase live baby bunnies for their children as Easter gifts. Unfortunately, many of these rabbits will wind up at shelters once they grow big and the novelty wears off. Because of this fact, there are animal shelters across the nation that refuse to adopt out rabbits at Easter time. However, this is not the case with Santa Barbara Shelter Bunnies Urgently Needing Shelter (BUNS). The group encourages adoptions year-round, even at Easter time, as long as those adoptions are to responsible owners.
BUNS was founded in 1992 when a woman named Dorothy Diehl came to Santa Barbara looking to adopt an Angora rabbit. Instead, Dorothy found adoptable rabbits at a shelter in conditions that weren't up to par. She ended up volunteering to improve those conditions and recruited seven volunteers, one for each day of the week. There are now close to 30 volunteers that run the organization. BUNS also gets assistance from Girl Scout Troops and the mothers and daughters of the National Charities League.
BUNS has a major fundraiser each year in September, called the "Bunny Festival," that helps support the cause. The Bunny Festival includes a silent auction, a bake sale, children's activities, vendors, rabbit Olympics, an animal communicator, veterinarians, and rabbit photos. Here is some great video from the festival last year: http://www.youtube.com/watch?v=QryArrQ7ws4.
It should be noted that rabbits aren't for everyone. They're not a "starter pet" for children as most people think. A child will not be able to be the sole caretaker of the bunny; adult supervision and assistance is required. Your house will require bunny-proofing, and some rabbits will need to be litter box trained if they aren't already. Rabbits are susceptible to hairballs, and they can't cough them up (like cats do), so they have to be brushed frequently. Everyday bunnies require monitoring and room to run and jump. And a bunny needs more than just rabbit pellets to survive; fresh vegetables, grass, and hay are also needed on a daily basis. Make sure you are ready for a lifetime commitment when you adopt a rabbit as some rabbits can live past 10 years.
BUNS offers nail trimming for rabbits and guinea pig nails for just $5. They also teach the basics of operant conditioning in a hands-on workshop using shelter rabbits and guinea pigs. You can teach your rabbit or guinea pig to touch a target, learn to shape a turn, and sit up. For more information on rabbit or guinea pig training, call (805) 683-0521.
If you love rabbits but can't give one a permanent home, BUNS is always in need of volunteers at the shelter, and there are a lot of different ways you can make a difference. You can volunteer at the shelter taking care of the stray and abandoned bunnies that are waiting for a home. BUNS also needs volunteers to help shuttle bunnies to and from the vet for spay and neuter. You can also volunteer to become a foster parent and temporarily care for a rabbit in your home. BUNS asks that children under the age of 18 come accompanied by a responsible adult.
If you think you're ready to share your life with a bunny, before you shop, please adopt! Pet stores often get their bunnies from "bunny mills" where rabbits are continuously bred and babies are weaned at a very early age. With all the homeless rabbits waiting for permanent homes, it doesn't make sense to breed them. Kudos to Petco for discontinuing their sale of rabbits! Petco now only showcases shelter rabbits.
BUNS is open Monday-Friday, 9 a.m.-4:45 p.m., and Saturday, 10 a.m.-4 p.m. It's located at 5473 Overpass Road. For more information, check out the website at www.bunssb.org.
If you think a bunny is right for your family, hop on down to BUNS today!
Animal-friendly Easter Baskets
This Easter, opt for an animal-friendly basket. You can purchase marshmallows made entirely from nonanimal ingredients from stores like Whole Foods. Vegetarians may not be aware that Peeps contain gelatin, which is boiled animal bones. For a completely animal-free Easter basket, check out: http://www.petacatalog.com/products/Easter_Vegan_Chocolate_Basket-594-0.html
Also, instead of regular eggs, use free range when you color your eggs. Ninety-eight percent of egg-laying hens in the United States spend their entire lives in tiny wire cages with no more area than a sheet of notebook paper. They are stacked in cages in huge warehouses and most never see the light of day. Thanks to Proposition 2, the law will require that by 2015 all egg-laying hens must be confined in ways that allow them to lie down, stand up, fully extend their wings, and turn around freely. Now that will be something to celebrate!
Wishing you and your family a happy, animal-friendly Easter!
Adoptable Pet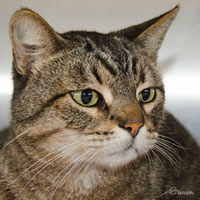 Robin is a 5-year-old, short-haired, brown tabby with green eyes, a copper nose, a stripey tail, and black-bottomed feet. He enjoys chin rubs, and an ASAP volunteer reports that he enjoys being sung to! This gentle giant is affectionate, calm, and serene and will be good with children and other cats. He's looking forward to an indoor/outdoor home.
Animal Shelter Assistance Program (ASAP) is a volunteer-based, nonprofit organization that takes care of the cats and kittens at the Santa Barbara County Animal Shelter. ASAP provides humane care for these animals and works to eliminate the practice of euthanizing them for reasons other than serious health or behavior problems.
The following is included in the adoption fee at ASAP: Spay or neuter surgery, flea treatment, vaccinations, microchipping, health evaluation, including testing for feline leukemia (FeLV) and feline immunodeficiency virus (FIV). Cats thought to be 10 years or older receive a full blood panel evaluation, thus assuring that the cat is indeed healthy and adoptable; medical and drug coverage through ASAP's vet for two weeks beyond adoption, if necessary; temperament evaluation; and cat carrier (you can save the county money by bringing your own).
For more information, visit ASAP at the Santa Barbara County Animal Shelter, 5473 Overpass Road. Adoption hours are Monday-Friday, 9 a.m.-4:45 p.m., Saturday, 10 a.m.- 4 p.m. For more information, visit www.asapcats.org or call (805) 683-3368