Arts & Entertainment
St. Louis Symphony Reviewed
Mark Sparks Played a Ravishing New Flute Concerto at Granada Theatre on Wednesday, March 20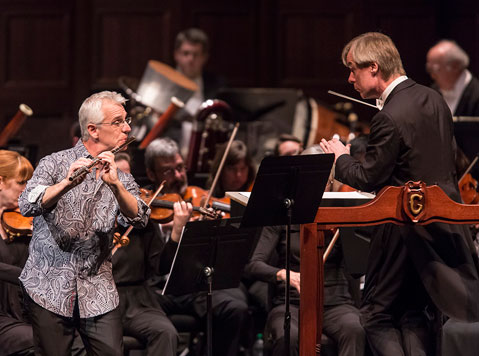 The St. Louis Symphony underscored its reputation as one of the world's finest with its first performance in Santa Barbara in 13 years and its first ever in the Granada Theatre. Under the baton of David Robertson, the symphony was in electrifying form with spirited and polished performances of notoriously demanding works by Richard Strauss, Paul Hindemith, and Christopher Rouse. By showcasing music that spanned the late 19th and 20th centuries, this concert made a powerful case for the mingling of romantic and modern palettes by composers who know what they are doing. Young Strauss infused his turn-of-the-century works with restless, unstoppable forces; they show late romanticism bursting at the seams. Hindemith brought great intellectual mastery of counterpoint, canon, and brass choir to the symphony that he wrote some 40 years later. And the very recent Flute Concerto (1994) of Christopher Rouse was unapologetically consonant in its Celtic-inspired pastoral beauty, while veering into rapid atonal dialogues in the middle movements.
Whether by intention or coincidence, the three German works were all named after legendary figures. Strauss's Don Juan (1889) is not the callous philanderer of Molina's 17th-century play, but rather the Hungarian poet Nikolaus Lenau's version of a man driven by an insatiable quest to find one woman who embodies universal womanhood. Strauss's other short work in one movement, Till Eulenspiegels lustige Streiche (1895) celebrates the exploits of wandering medieval trickster Till Eulenspiegels, a frequently perverse figure of German folklore. Hindemith's symphony Mathis der Maler (1934) is based on a real person, 15th-century German painter Matthias Grünewald, whose life is shrouded by legend. Hindemith's spin on the story, as elaborated in his opera, has the painter abandoning his art to join the uprising of serfs during the Peasants' War but later going back to painting after a visionary encounter confirms to him that fulfilling his talent is his greatest service to God and man. Hindemith assembled this symphony from themes in his opera before the latter was complete.
Because of its rigor, Strauss's Don Juan is often used for symphony auditions. Strauss capitalizes on smears of chromatic grace notes that, in his time, raised the technique bar for the new-fangled valved brass instruments, but this is not to say the work is an ungainly showcase for technical passages. The marvel Wednesday night was the utterly natural, unified, unlabored feeling in the playing. Technical considerations seemed remote; Strauss's wit, imagination, and genius shone. Maestro Robertson's focus and fitness make him an ideal conductor for this music. With his blond straight hair, he could easily pass for a native German.
Rouse's Flute Concerto, featuring Mark Sparks, was the concert centerpiece for good reason. No one present for this astonishing performance will be surprised to learn that Rouse is a Pulitzer Prize–winning composer. Played in five movements without pause, the elegiac first and fifth were almost painfully beautiful, suggesting the Irish pastoral horizon. Rouse has acknowledged the Celtic influence, citing "a more spiritual, even metaphysical" evocation, "not unlike some of the recordings of the Irish singer Enya." The dramatic contrasts are wonderful, especially Rouse's shifts of simplicity and complexity in rhythm, the frenzied chatter that transforms into a jig, and beyond. One alluring sequence began with a foundation of four notes repeated in bass winds and built layers of strings as volume and height were expanded until suddenly there was an unsuspected crash and collapse. It was a savory moment of dramatic discontinuity in a composition that was otherwise seamless. Sparks's tone, command, and nimble handling of complex runs were thoroughly enjoyable.