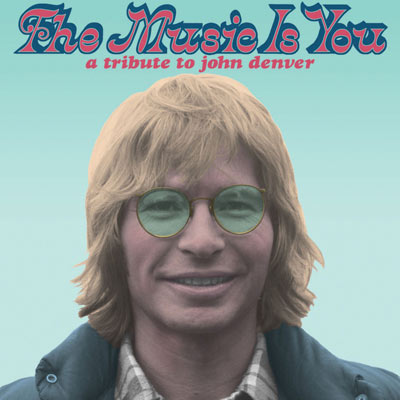 Tribute albums can be tricky. But the pitfalls that often doom them — poor re-interpretations of the work that only makes you long for the original — do not derail The Music Is You: A Tribute to John Denver. The album starts out strong with My Morning Jacket's vision of "Leaving On a Jet Plane," one of Denver's best recognized songs, thanks to an earlier cover by Peter, Paul & Mary, their only No. 1 hit. With trademark atmospheric aplomb, MMJ's crisp version is expansive and intimate at the same time, and the sparkly guitar pluck is reminiscent of Denver's early acoustic fingerpicking centered work.
Dave Matthews Band puts a satisfying, soulful spin on "Take Me To Tomorrow," the title track off Denver's eponymous 1970 record. Matthews begins the tune with a tremulous falsetto "Hey everybody, what's on your mind? Do you think there's nowhere else to go / There's nothing left to find?" The song crescendos as it goes, turning into a contemporary rally cry. Though it's been 40 odd years since Denver penned this tune, his lyrics — and DMB's astute handling — speak volumes to today's mood.
Other excellent interpretations come from Amos Lee, who strips down — and slows down — the country tinged "Some Days are Diamonds" to a folky swirl of bucolic soul; Edward Sharpe & the Magnetic Zeros, whose chorus-sized band tackles the socially conscious "Wooden Indian," keeps close to the original arrangement; and Old Crow Medicine Show, whose cover of "Back Home Again" transports you to a back porch somewhere in the Blue Ridge Mountains.
The making of The Music Is You was the brainchild of Brian Schwartz, who manages the John Denver estate on behalf of Denver's three children. "One of my initiatives when I came onboard with the family a few years ago was to produce an album of notable contemporary recording artists recording John Denver's songs," said Schwartz. "The other part of what made John special… is that he was a celebrity environmentalist," Schwartz continued. "I think that he was so ahead of his time." In honor of Denver's activism, a portion of the proceeds from The Music Is You will go to The Wilderness Society, a conservation group devoted to protecting U.S. woodlands. "He was an amazing singer/songwriter and he certainly left his mark on the world and a lot of his songs will live on hopefully in perpetuity," said Schwartz.
While Denver's well known hits such as "Annie's Song," Country Roads," and "Rocky Mountain High" are also represented on the album, it's in the lesser-known tunes that listeners find the breadth, depth, and true genius of the late singer/songwriter. This contemporary presentation is sure to delight longtime Denver fans and create some new ones.