Film & TV
No
Gael García Bernal stars in a film written by Pedro Peirano, based on the book El Plebiscito by Antonio Skármeta, and directed by Pablo Larraín.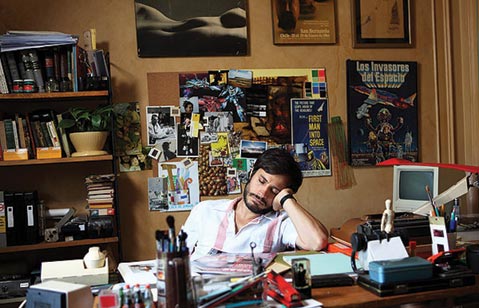 One of the hits of this year's Santa Barbara International Film Festival, the Chilean film No arrives with impressive badges of honor, including an Oscar nomination for the first time in Chilean cinema history. Most importantly, this is one of those films that addresses a dark period of Chilean — and more generally, Latin American — history but with a sense of humor and style amid the evil political machinery at the core of the situation.
No, filmed in the charming antique visual texture of videotape with plenty of mock-doc handheld camera moves, tells the tale of the 25 years in Chile when the public was given a chance to vote "Yes" or "No" in extending Pinochet's reign. The plebiscite in 1988 was part of an image-polishing scheme by the despot, replete with deceptive and propagandistic campaigning by the well-funded "Yes" camp. As director Pablo Larraín told a packed audience at the Lobero Theatre during the festival, "Democracy — if you don't do it, someone will do it for you."
In this case, the avid pursuit of democracy, happiness, and the banishing of a tyrant is told through the story of grinding, greased wheels of marketing. Gael García Bernal, an actor who continues to do the right things, plays an advertising man with ambivalent political views, hired to devise a marketing scheme to wake up Chileans to the importance of voting "No." He embarks on some clever, counterintuitive ideas in the process, playing up the cheerful brainwashing mode of Coca-Cola commercials rather than the doomsday card, to the dismay of some in the campaign.
Wisely, Larraín approaches his subject with a rare seriocomic deftness, never neglecting the weightiness of defrocking a dictator, but maintaining a certain fizzy black humor in the background. While the story is about the power of the masses and the many, No also circles back to the concurrent personal plotline involving Bernal's own character, a scheme-conscious ad man caught in a project that awakens his conscience. In the end, he says "yes" to sociopolitical caring. As amused, inflamed, and informed moviegoers, we say "yes" to No.