Bottles & Barrels
Jaffurs Paired with Wine Cask
Course by Course Examination of Saturday's Winemaker Dinner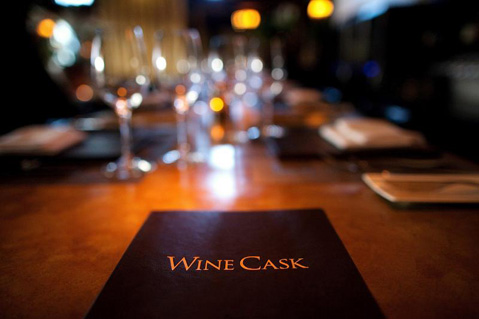 One of the true pioneer members of Santa Barbara's now-bustling Urban Wine Trail, Jaffurs Wine Cellars moved into its winery on East Montecito Street near Milpas in 2001 and continued the tradition of making world-class syrah, grenache, and other Rhone varietals and blends that founder Craig Jaffurs began in 1994. This fall will mark Jaffurs' 20th harvest, and to get the growing season started off right, the winery is hosting a dinner this Saturday, April 6, at the Wine Cask in downtown Santa Barbara.
To get a sense of what to expect, I asked general manager Dave Yates some questions about the wines that they plan to pair with each course, which will be cooked by Wine Cask's head chef Brandon Hughes.
Appetizer Course: Passed Apps with 2012 Viognier (new release)
Viognier had a hard time taking off because people don't know how to pronounce it. How does it do now?
Once people learn to say it, they enjoy saying it. Viognier does very well for us. We produced our first viognier in 1996 when there were only a handful of producers in California making one. At that time, the varietal was essentially unknown in the market. The fragrant bouquet of peach blossoms and the tropical fruit flavor makes it easy to fall in love at first sip.
Viognier is one of our most challenging grapes to work with because we walk a fine line between balanced natural acidity and full aromatics and fruit expression. Unfortunately, there are now many fairly inexpensive viogniers on the market that either taste like grapefruit or sweet, syrupy apricot jam.
We used to enjoy turning people on to viognier, but now that most people are already familiar with it, we now like to demonstrate what a fantastic wine it can make when done correctly. Our biggest challenge is overcoming people's aversion to the inexpensive mass-produced unbalanced viogniers on the market. Once people taste it, they are hooked, and we always sell out of the wine pretty quickly.
First Course: Roasted beets and baby carrots with Humboldt Fog, hazelnut and rose vinaigrette, with a 2012 Grenache Blanc (new release)
When did you start making Grenache Blanc, and why?
In 2006, David Thompson was nice enough to graft some grenache blanc on his existing cabernet franc plants. In 2008, we were able to produce our first vintage.
We became fans of the varietal after drinking some nice bottles from Spain, the southern Rhône, and local producers like Curran and Beckman. We were looking for another white varietal to complement our viognier and roussanne wines. The grenache blanc has a fantastic fruit profile with stone fruit, pear, and citrus zest. It is a full-bodied wine so we like to ferment most of it in stainless steel barrels to maintain the acidity and keep it light in the mouth.
Second Course: Roasted quail with chestnut, blackberry, and wild arugula, with 2009 Grenache (last of vintage)
Grenache seems to be a grape that can be done in many styles, from light and juicy to deep and brooding. Where does this one fit on that scale, and why did you do it that way?
We have produced quite a few styles of grenache, ranging from ripe and full bodied to light and spicy. We have experimented with anywhere from zero percent to 66 percent whole cluster fermentation, nine month to two year barrel aging, and blending in various amounts of syrah. Grenache is one of our favorite varietals because of its diversity and adaptability. Our 2009 Grenache is full bodied and fairly dark and has a fantastic red berry fruit profile. It should be the perfect match for the quail.
Main Course Duo: Waygu New York strip, beef bacon hash, broccolini, red wine reduction; and
lamb chops, golden raisins, heirloom beans, dandelion greens, and sauce pecarini; with 2009 Syrah, Amplelos Vineyard (library selection) and 2009 Syrah, Verna's Vineyard (library selection)
How would you describe the difference between these two syrahs? Which goes with beef? Which goes with the lamb? And why?
The Ampelos Syrah has great minerality, bright dark fruit, and pepper. The Verna's Vineyard Syrah was partially fermented with whole clusters that add a Provencal spice and add make the wine very smooth on the palate.
They are very different wines, and both go well with beef and lamb. It is really the sauce preparation that will determine whether one wine will pair better than another for each entrée. We will likely have a discussion during dinner about it and get people's thoughts on the pairings. We have fun pouring two wines side-by-side with a course so people will consciously focus on the pairings. Chef Hughes wanted to have some fun as well and pair it with two entrees. Bravo !
Dessert Course: Chimay Reserve Cheesecake with apricot and pistachio chutney, with 2008 Grenache Blanc, Botrytis (library selection)
Is it hard to get botrytis to grow here? How does it change the grenache blanc?
Botrytis spores are spread throughout the county, just waiting to come to life when the conditions are right. Heavy fog or a late summer rain can do it. We typically notice a very small amount in each vintage, but we only get enough to make wine from every couple of years. Grapes that are infected with botrytis are typically picked at the same time as the uninfected grapes.
The great thing about the botrytis-infected grapes is that the fruit profile of the grape stays the same and much of the natural acidity is retained. The fruit profile changes and the natural acidity drops out in late harvest wines.
Botrytis does add a recognizable flavor and aromatic profile to the wine that people enjoy. Two thousand eight was our first vintage of Grenache Blanc, and many of the clusters had botrytis. All of the individual grapes that were infected were pulled and cut from the clusters by hand and fermented separately in a single barrel.
4•1•1
Jaffurs Wine Cellars (819 E. Montecito St.) and the Wine Cask (813 Anacapa St.) pair up for a winemaker dinner this Saturday, April 6, 6:30 p.m. Tickets are $95, and there are still a few seats left. Call (805) 966-9463 for reservations. See jaffurswine.com and winecask.com.