Columns
Shows Go On Despite Obstacles
Richly Collegial Atmosphere Among Local Teaching Institutions
"Things are coming together, finally," said theater teacher Clark Sayre as he surveyed the more than 40 Dos Pueblos High School students sitting and standing on the auditorium stage before him. They were preparing to rehearse scenes from In the Heights, the Broadway musical director Sayre has chosen to showcase the high school's multiethnic theatrical talent this month.
"The singing sounds good; the band is amazing. I'm really feeling good about the production," he told the mostly female cast as he ran a hand through his unruly red hair. But they had yet to master some complex choreography before opening night. It was time for everyone to push their own and each others' performances, time to go for the heights.
Reinforcing that notion was no-nonsense music director John Douglas. From the orchestra pit in front of the sparsely set stage, he growled, "And if I give you a note [to sing again], no back talk; just do it."
Sayre, Douglas, and producer/choreographer Gioia Marchese are the professional staff for DP's theater productions, along with outside consultants with special skills. Students of the Dos Pueblos Theatre Company do most of the physical work as well as perform on stage. They build and move sets, do the lighting, run the audio system, and take care of a myriad of other backstage functions.
Not the least of these is to sell tickets to the show. In the Heights opened this past weekend and will run for the next two weekends. Sayre estimates that the big spring musicals cost $40,000 to $50,000 to stage, and they have to be basically sustained by ticket sales. He adds that for the past two years, sponsors Patricia Bragg and Virgil Elings have helped cover some costs with Tarzan and In the Heights, respectively.
Admittedly, not every production is as large and ambitious as these two musicals, but funding even more modest programs is a continuing challenge. Sayre says San Marcos High shows have subsidies from student government and Santa Barbara High's program, like DP's, depends heavily on ticket sales.
"It's getting harder and harder to have a full-time drama program," he says. This is due to internal and external pressures that require classes of 35 students, coupled with the failure to provide adequate financial resources. He fears an even darker future.
"We need more systemic (state and district) support to survive," he concludes.
Though finances are also a concern for theater productions at the University of California, Santa Barbara (UCSB), the campus has the advantage of being the only home for the Bachelor of Fine Arts (BFA) degree in acting in the entire UC system. Professor Irwin Appel directs this three-year, conservatory-style program that initially selects 24 undergraduate students to train as stage actors. Admission is by audition.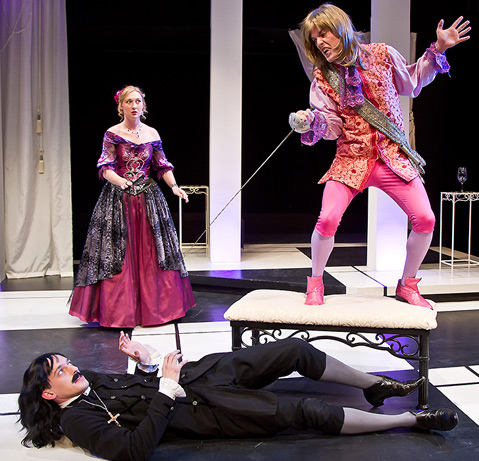 While all of these students are UCSB enrollees, a few are transfers from Santa Barbara City College or local high school graduates. "Some of our best students have come from City College," recalls Appel. However, not very many local students go for their BFA here. This may be, he speculates, because they prefer to go out of area for college or simply do not know about the UCSB program.
Many of the BFA program's six faculty also perform, on and off campus. (Appel had a major role in the recent college premiere of James Still's new play Appoggiatura, while faculty artist Anne Torsiglieri was the female lead.)
Despite such responsibility, Appel admits, "We need to do a better job at building relationships with high school drama teachers in this area. I'd love it if they would talk to their best students about our BFA program. There may be a spark there that we can help nurture."
This type of communication is important to furthering what Appel describes as a richly collegial atmosphere among local teaching institutions, where faculty and student talent freely appear on each other's stages. The main limitations, he suggests, are time and energy, not attitude: "We are all very busy, but no one wants to stay on their own island."
As an example, Appel cites a collaborative production of Our Town at the Lobero a few years ago, in which he acted with student players from Goleta and Santa Barbara high schools as well as cast from the professional Lit Moon Company. The play's director and some faculty actors were from Westmont.
Entertainment is fine, but the value of the performing arts to the community lies deeper than that. Appel believes that blending a "strong liberal arts education" with the BFA's professional training is a combination that produces better citizens, even if they never get a job in the arts.
"We teach teamwork, problem-solving, critical thinking, empathy," and other human values, he argues. These traits are always in demand, and often in short supply.