Opinion
The Other Side of Jonathan Winters
Comic Genius and Its Discontents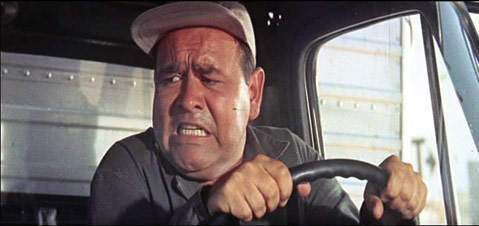 HILARIOUS SKITS: The Jonathan Winters I knew yearned to add a memorable film to the legacy of his comic genius, like Harold and Maude or maybe a serious classic.
But it was not to be for Winters, who died last week at the age of 87 at his Montecito home. Hollywood's silver screen was far too small to capture his boundless, madcap creativity.
In his best film, It's a Mad, Mad, Mad, Mad World (1963), he was one of a cast of wacky characters. Winters got the part just after he emerged from eight months in a mental hospital, his stand-up comedy routines having driven him too close to the razor's edge of mania. He'd suffered a nervous breakdown on the stage of the hungry i in San Francisco. The drinking, which ran in his family like a river with dangerous rapids and contributed to his legendary escapades, didn't help.
His hilarious TV skits and two TV series were what endeared him to the nation ​— ​nutty characters tumbling from his acrobatic mind, sound effects like a whiz of a fishing line, and the fingernails-on-blackboard voice of sexy grandma Maude Frickert.
But as we talked one day in his comfy Montecito den, when he was in his sixties, Winters was edgy, the ex-Marine's guard down. Sure, fame had come, along with movies like The Loved One and The Russians Are Coming, the Russians Are Coming. He loved entertaining, and Montecitans were not surprised to encounter him on a sidewalk, eager to engage in a wacky dialogue. Winters was beloved here, as friendly as some local celebs are distant.
As we talked, bizarre personages from his vast repertoire marched across the room, all in perfect voice, like gruff Dr. Otto Steddler, the German ex-rocket scientist, now running a drugstore in Dayton, Ohio. Winters was still busy in show biz, doing TV guest shots and drive-in comedies. But on his feet, pacing, he seethed resentment at the "26-year-old" studio show-biz glitz kids who noted the silver in his hair and told him, "The kids don't know who you are." Sorry, no big part.
The man whom many young comics praise for influencing their careers was privately a proud, introspective man, damaged by his upbringing and bitter that the studios could not find him a place in the sun. Cracked the versatile Winters: "A genius: a man who can do everything but find work." His autobiography, I Couldn't Wait for Success, So I Went Ahead Without It, is yet to be published. I'd love to read it.
Winters depicted his childhood as a lonely one. He was left in his room, where he survived by creating characters. One story has his father locking him in the car and going into a bar to get drunk. "My father wanted to be in show business. … I never realized he was so jealous of my success." His mother was busy at an Ohio radio station, where she had a program for years.
"All I wanted was love," Winters said. "They just didn't understand." He thought for a moment. "You're either sensitive, or you're insensitive."
Winters, the son of alcoholics, had gone 30 years without a drink when we talked. "Alcoholics Anonymous saved me."
But then the mood passed. He glanced around the den, filled with his prized collection of helmets, bright San Blas Indian molas, ship models, his paintings, and books. "I'm a collector. I love history." He picked up a paint brush. "I consider myself a fairly together guy."
RETURN ENGAGEMENTS: The Circle Bar B Dinner Theatre gang is at it again, opening its season with Bernard (Same Time, Next Year) Slade's clever, zany comedy Return Engagements. Four actors play eight characters, jumping from bed to worse between 1954 and 1986. So funny I could return for a second helping, it runs through May 19. The big news is that producers Susie and David Couch will take a wild leap to Oscar Wilde's The Importance of Being Earnest, opening May 31. (Susie will play Miss Prism, by the way.)