Arts & Entertainment
Old Crow Medicine Show at the Lobero Theatre
Alt-Folkies Packed the House on Sunday, April 28.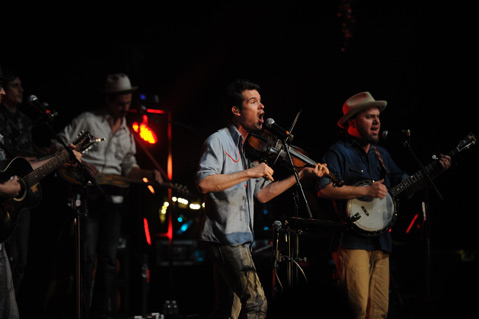 "If you like the kind of country music that sounds good in your trailer at night when the stars are shining, then you're going to like to hear us," explained Ketch Secor of Old Crow Medicine Show (OCMS) in a 2009 interview with The Santa Barbara Independent, "because we've got fiddles, and we've got banjos, and we've got harmony singing. If you like Buck Owens, you're gonna like the Old Crow."
But one look at the crowd attending OCMS's sold-out gig at the Lobero last Sunday suggested that the band has a much wider appeal than Secor thinks. Record sales confirm, too, that their popularity has crept into the mainstream; their 2012 album Carry Me Back went to number four on the U.S. country charts, number 22 on the U.S. Billboard charts, the best showings of their nearly 15-year career.
While OCMS's recordings are foot-stomping and catchy, their live shows are rollicking fun. The seven-piece group hit the Lobero stage crackling with an energy that didn't wane for their entire two-hour set. Opening with "Carry Me Back," a fiery tune about the horrors of the Civil War, Secor fiddled like a madman, the rest of the group easily keeping pace. By the time they launched into their second tune, "Alabama High Test," the audience was already breaking into a collective sweat from dancing.
The set was satisfying mix of new tunes and cuts from older albums. One of the best live touring bands of the day, OCMS can deliver lively numbers with a fervor that sets the house ablaze ("Mississippi Saturday Night") and then "sing one sweetly that you can hear all the way to the avocado fields," as Secor put it before launching into "CC Rider." Along with their originals, the band did a few covers, including a brilliant version of "Tennessee Whiskey," which they delivered as an ode to country music legend George Jones (who passed away April 26) and a rendition of Tom Petty and the Heartbreakers' "American Girl." (Robert Ellis, the night's opening act, joined the band onstage to sing lead vocals on the Jones tune. His rich voice and emotional delivery held the audience spellbound.)
OCMS may be riding the musical wave that sees country, folk, and bluegrass bands kicking ass and taking names, but they were one of the first groups to peddle the sound. It's a new-old genre that has brought big-time success to bands like the Avett Brothers and Mumford & Sons. That OCMS is now garnering recognition is not surprising, just long overdue.