Arts & Entertainment
A Grand Reopening for Rockshop Academy
Youth Music Non-Prof Unveils New Community Center and Retail Space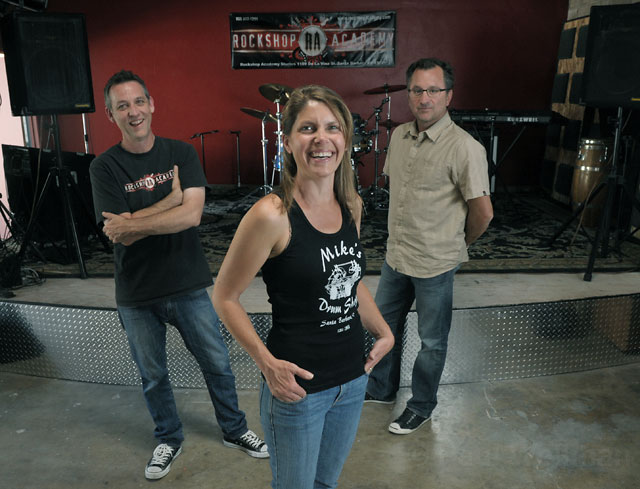 It's not everyday that you find a former retail business transform into an education-focused, 501C3 non-profit organization. In 2009, owner of Mike's Drum Shop and Dishwalla/Penfiteen Club drummer, George Pendergast and David Young (the band's former manager) established the Rockshop Academy. For the last several years, this unique organization has devoted itself to nurturing young musicians throughout the Santa Barbara area. With the help of experienced members in the music industry, they've helped spawn an array of talented, young musicians like False Puppet, Technical Difficulties, The Wha Wha's, 50 Below, Stolen Thunder, Official Breakdown, and Bad Jack.
After months of renovation, the Rockshop Academy will unveil its state of the art community center, new retail space, and upcoming summer camp sessions and music club with a grand re-opening party this Saturday, May 4, from 5-10:30 p.m. Besides dinner, beer and wine, and a raffle with discounts for upcoming camp offerings, the event will showcase young local artists like Stolen Thunder, Marley Quinn, Technical Difficulties, Two Thirds, Rockshop Tuesday, The Caverns, Highway, and The Wha Wha's.
"When George and David formed Rockshop Academy, they wanted to inspire students and make music more accessible to local youth," said Stacy Christopher, publicist for the Rockshop Academy. "They felt that the best way to move forward and expand the Rockshop was to create a safe environment where kids could express their creativity, feel a sense of belonging, and develop confidence for performing in front of their peers and fellow musicians. "
With the newly renovated space, Rockshop Academy seems to be poised for success; not only are they offering week-long summer camp sessions, but they will also feature a year-round music club that youngsters can join. Summer camp sessions will start in June and run until August, catering to kids ages 10-17. These summer sessions will allow students to work on and rehearse select pieces of music for a final Friday performance for peers and community members.
Moreover, the remodeled community center fused-retail space will provide a perfect environment for Rockshop's year-round music program. "George [Pendercast] understands creativity and he understands kids; the community center will serve as the perfect place for musicians (both amateur and seasoned) to hang out and to learn about themselves and exchange ideas," said Christopher.
In the future, Rockshop hopes to reach students beyond music; the organization has goals to educate kids about philanthropy and community outreach, as well as ways to address childhood hunger.
To get involved, or learn more about Rockshop Academy, visit rockshopacademy.com.
4•1•1:
The Rockshop Academy (1109 De La Vina St.) will hold a grand re-opening party on Saturday, May 4 at 5 p.m. For tickets and info, call (805) 962-1211 or visit Rockshop Academy on Facebook.