Arts & Entertainment
Brad Mehldau Trio and The Bad Plus at the Lobero Theatre
Top Piano Trios Play Together on Friday, May 3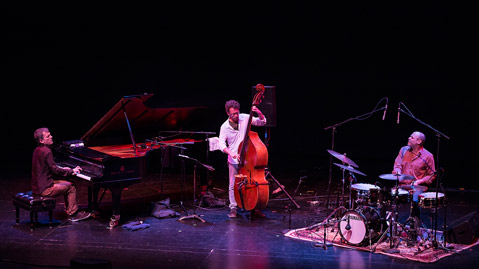 This meeting of the two greatest piano trios in 21st-century jazz made for a blissful night of rhythmically complex yet groove-laden improvisations. Both Brad Mehldau and The Bad Plus have made their reputations in part on the basis of their crossover appeal, thanks to some very canny, musically adventurous covers of recent pop and rock. And, as of this concert at least, both have moved on, trusting that the audiences that come to see them in 2013 don't need to hear "Smells Like Teen Spirit" or "Paranoid Android" to feel they got their money's worth. In fact, in both cases the impulse to go beyond the set templates that got them here is a good thing and has created the possibility of an entirely new era for the classic trio format of bass, drums, and piano.
The Brad Mehldau Trio with Larry Grenadier on bass and Jeff Ballard on drums came out roaring on a bebop number, "Dexterity," from Charlie Parker's songbook. Mehldau has been playing this tune with mandolinist Chris Thile lately, and on Friday night it was easy to hear the lightness and honky-tonk grit that make it appealing in either context. The only downside to the Mehldau Trio's set was how quickly it flew by. While he did not play the Beatles' classic "Blackbird," a staple of his early career, Mehldau did demonstrate his ongoing interest in the compositions of Paul McCartney by choosing to play a pair of more obscure songs from his 1990s solo output. Both Grenadier and Ballard were in exemplary form, and Mehldau has never sounded better.
Not to be outdone, The Bad Plus stormed the stage with a set entirely devoted to songs from their most recent album, Made Possible. Propulsive compositions like "Seven Minute Mind" and "Wolf Out" gave a preview of what listeners can expect when The Bad Plus return to the area to play Stravinsky on Thursday, June 6, as part of the opening night of the 67th Ojai Music Festival.