News
UCSB Student Heads to Trial for False Rape Report
Morgan Triplett Accused of Hiring Man Through Craigslist to Beat Her in Exchange for Sex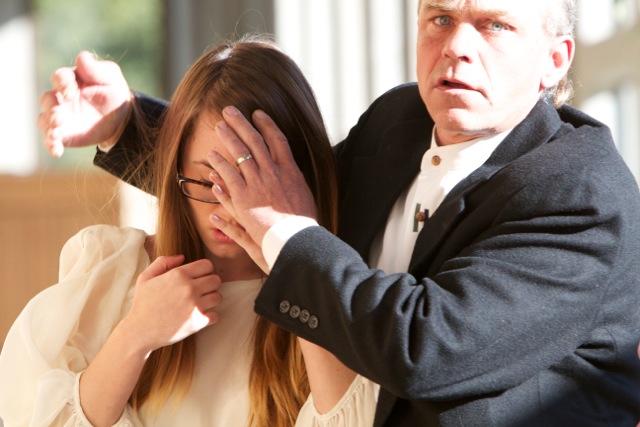 The trial for a UCSB student charged with filing a false police report after orchestrating a violent and bizarre series of events in Santa Cruz this February is scheduled to begin May 23.
Morgan Triplett, 20, told authorities she was beaten and raped by a stranger as she looked for banana slugs along a path on the UC Santa Cruz (UCSC) campus. She had traveled there for a lesbian, gay, bisexual, transgender conference. Over the course of their investigation, detectives determined Triplett had actually hired a man through Craigslist to beat her in exchange for sex. While the motive remains unclear, authorities have speculated she organized the entire affair in an attempt to save a troubled relationship.
Efforts to reach Triplett have been unsuccessful, and messages left with her attorney — Santa Cruz public defender Jack Lamar — have not been returned. If convicted of the misdemeanor charge, she faces up to six months in jail. She pleaded not guilty during her March 29 arraignment.
In the criminal complaint, Santa Cruz County Assistant District Attorney Johanna Schonfield claims that Triplett called 9-1-1 on February 17 to report she had been raped. Law enforcement arrived on the scene, interviewed Triplett, found no suspects, and sent her to a nearby hospital for a sexual assault exam. But, the complaint explains, Triplett refused to give the nurse her clothing despite being told it could contain evidence, and she asked that DNA samples not be sent to the Department of Justice, "which raised red flags in the minds of the investigators."
Triplett helped a forensic artist sketch an image of the supposed suspect that was then disseminated to the public. As a result, several people were detained and questioned. Parents pulled their children out of school, Schonfield said, and "widespread fear" permeated the community.
Over the next few weeks, "police learned Ms. Triplett has a history of lying, particularly in efforts to save troubled relationships," Schonfield wrote. The day before she filed the report, Triplett and her boyfriend at the time had broken up. "In response to the ending of this relationship, she claimed she was pregnant with her boyfriend's child, which was not true," the complaint reads. "She also previously had told this boyfriend her father had suffered from a heart attack, which he had not, that she had been lost in the desert with amnesia, and that she had ovarian cancer, none of which was true."
That same day — February 16 — Triplett reportedly posted two ads on Craigslist. One sought a gun owner who would shoot her in the arm or shoulder "with the smallest caliber bullet possible." She promised she wouldn't press charges and offered undefined compensation. The other ad asked for someone to beat her up. "Punches, bruises, kicks," she wrote.
An unnamed individual responded to the second ad and began texting with Triplett. "The two reached an agreement that in exchange for the physical assault Ms. Triplett would have sexual intercourse with him," Schonfield said. They met February 17 on UCSC's campus. "Ms. Triplett directed him to hit her repeatedly in the body and face. They had sex and afterwards she used his cell phone screen reflection as a mirror to see if the injuries were bad enough and then directed him to hit her some more." They parted ways, and Triplett called 9-1-1.
"During the course of the investigation it became very clear that Ms. Triplett is a very troubled young woman who was engaged in self-injurious behavior and been suicidal at points," the complaint concludes.
Outside a Santa Cruz courtroom after her arraignment in March, Triplett's father, Richard Triplett, told the Register-Pajaronian that his daughter did arrange to be beaten, but was then forcibly raped. "Morgan asked for some trouble, but she did not ask to be sexually assaulted," he said. "There are two sides to every story."
Richard Triplett went on to say Morgan is remorseful for the entire incident. "She is sorry for any problems or chaos that she has caused," he told the Register-Pajaronian. "What we're dealing with is a very scared, very upset, very confused 20-year-old girl who has made some poor choices. This is the culmination of those choices."
For her part, Morgan simply stated, "Right now, I just want this to settle down. I'm trying to move on with my life."