Sports
How to Ride and Watch the 2013 Amgen Tour of California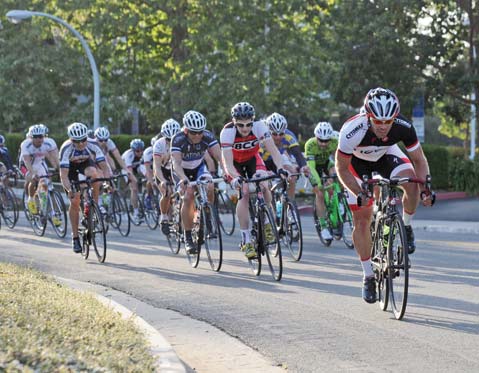 Expect to see smooth legs when the Amgen Tour of California comes rolling through town.
"Shaved legs define your commitment to the culture," explained Andrew Coates, to which Vincent Chiu agreed, adding, "And you'll heal faster if you crash and get road rash." Said Chris Rea, "Yeah, I had gnats, gravel, and grime stuck inside my legs. That inspired me to shave."
Members of the UCSB Cycling Team and hanging out at the Handlebar coffee house after a training ride, the trio was eager to see how the pros push their pedals in the Amgen Tour, particularly when Stage 4 finishes on Cabrillo Boulevard at East Beach between 3:30 and 4 p.m. on Wednesday. The riders will come flying down Hot Springs Road, through the roundabout, under the railroad bridge, and around the Bird Refuge.
"I'm going to set up shop near the finish," Rea said. "I want to watch the cat-and-mouse game leading up to the final sprint. They're going to blow my racing speed out of the water."
"If you're not going 40-plus [mph]," Coates declared, "you're not a pro."
Rea, a 30-year-old student who returned to college after a stint in the Navy, said, "I'm heading up San Marcos Pass with a cooler" to watch the riders in a climbing mode Thursday. It's a tradition in France for spectators to get crazy in the mountains, and Coates said, "I'm thinking of wearing a giraffe costume."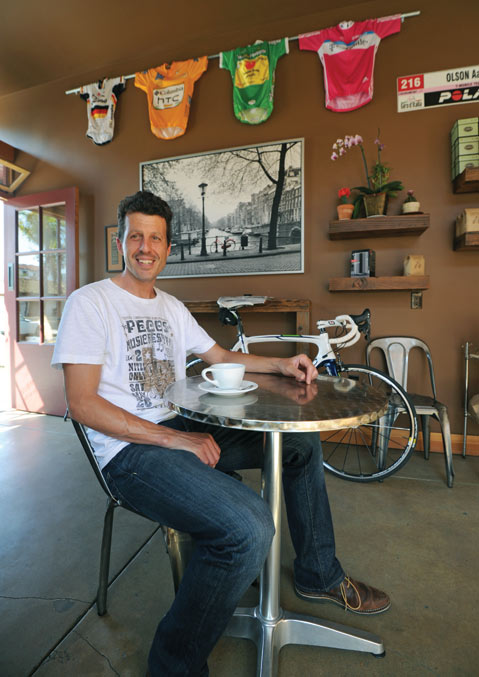 Handlebar owners Aaron Olson and Kim Anderson are both former professional cyclists. Olson competed in the first four Amgen Tours, three of which brought him to Santa Barbara. "It's the reason I moved here," the Oregon native said. His enjoyment of "the café life" that accompanies cycling in Europe led him to open the coffee shop.
Olson's cycling career took him to the Giro d'Italia, one of the "Grand Tours," and although the Tour of California is not at that level, he said, "It's the real deal. Europeans love coming to California. It attracts very top-level riders. It's comparable to the Paris-Nice race or the Tour of Switzerland."
Olson said he got into cycling because "I liked to push myself, and I didn't mind training alone." He often tried breaking away in stage races, but only once did he succeed in beating the peloton, when he finished second in a stage of the Tour of Poland. "It's risk-reward," he said. "You have to take a chance if you're not that fast."
Racing tactics may seem mysterious to Americans, Olson said, but "if you see any sport at the professional level, done well, it's interesting to see. The riders have the same qualities as other top athletes. They have the talent, the work ethic, and the mental drive to succeed. I respect people who achieve big results with their natural ability."
As for the riders who went beyond their natural ability? "It's like corporate America," said Olson. "Some people make money honestly; others cheat and break rules to do it. It's a bummer when you can only achieve a certain level in a sport and then you run into a road block." But Olson added, "My career paid in huge ways that aren't monetary. Because of cycling, I've made friends, learned a foreign language, met my business partner, Kim, and now we live in Santa Barbara."