Dance
American Dance & Music Gets Up Close and Cultural
Group Offers Performances and Lecture Demonstrations Sunday, May 19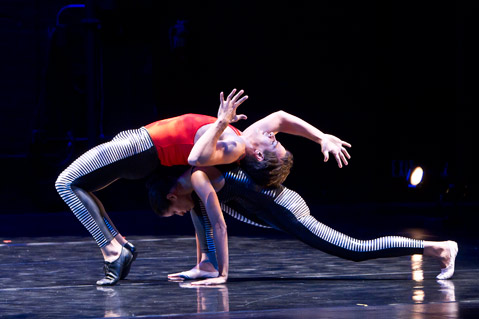 It's been 20 years since dancer and choreographer Carrie Diamond last performed for an audience. This Sunday, May 19, the executive director of American Dance & Music (AD&M) makes her return to the stage.
The landmark occasion is Up Close and Cultural, AD&M's third annual showcase of dance performances, lecture demonstrations, and informal Q&A. It's a free public event, held in the spacious ballroom of the Carrillo Recreation Center: no lights or wings or elaborate stage makeup, just a group of accomplished dancers, students, and dance educators doing their thing — and chatting about it.
Now in its eighth year, the company formerly known as Ballet Santa Barbara has established itself as a community-centered performing arts organization. In addition to running a professional company (AD&M Performance Group) and offering modern and ballet classes for adults and teens (AD&M: The School), they run Moving to Learn — a standards-based dance curriculum — in a number of public elementary schools.
Diamond and her composer husband, Eric Valinsky, moved from New York to Santa Barbara in 2002, bringing with them decades of experience in the performing arts and a desire to share their expertise. With Up Close and Cultural, they aim to bring dance to the community at large, particularly those who might not otherwise see this kind of production.
On the program this year is "Jumble," Diamond's new contemporary ballet trio set to an original score by Valinsky, in which she will perform alongside dancers Sally Schuiling and Megan Stanek. The company will also perform Diamond's "Haringduet," based on the work of visual and graffiti artist Keith Haring, as well an excerpt from Diamond and Valinsky's collaborative work "Wisperfal," from 2010.
Yet there's much more to this intergenerational, multicultural program. Among the performers taking the stage Sunday will be Mari Sandoval, one of Diamond's first dance teachers in Los Angeles and now a celebrated flamenco artist. AD&M Performance Group member Rachel Hernandez will be bringing a group of dancers from Los Angeles to perform traditional and contemporary Afro-Brazilian dances, and she will invite audience members to join in on the action — don't forget your dancing shoes.
For Diamond, and for many lovers of dance in this town, seasoned instructor Susan Alexander is one of the gems of the dance community. Alexander teaches modern dance classes for AD&M and will give a demonstration of her Cunningham-based technique class with the help of some of her loyal adult students.
What makes Up Close and Cultural unique, aside from the informal presentation and the mix of genres, is the age range of those involved: from Sandoval in her sixties down to the kindergartners from Cleveland Elementary and Open Alternative schools, who will perform some of the dances they've been learning in the classroom, thanks to AD&M.
As part of her focus on community building and access to the arts, Diamond has made a concerted effort to reach out to those who may have limited budgets — including retirement home residents and families with younger children — encouraging them to come take part.
To Diamond, who left the nation's dance capital to settle in Santa Barbara, a life in dance isn't just about conservatory training and rarefied technical ability. It's about community, and it's about joy. Of course, returning to the stage herself represents a major shift for the director, who says she sees this year's show as a chance to show Santa Barbara the power of dance across divisions of age, genre, and ability. She also sees it as an opportunity to give thanks to those who got her started on her path.
"It's nice to be able to look back," she noted. "You get older, and you really want to honor the people who taught you so much."
4•1•1
American Dance & Music presents Up Close and Cultural at the Carrillo Recreation Center (100 E. Carrillo St.) on Sunday, May 19, at 2 p.m. The event is free, and a reception with refreshments will follow the performance. To learn more about AD&M, call (805) 450-7535 or visit balletsantabarbara.org.