Columns
Horse Sense
Training Does Not Have to Be Cruel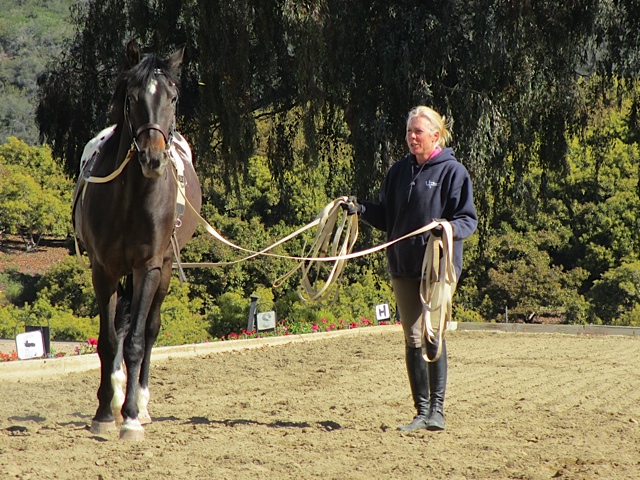 Jubilee is an energetic horse with a forward movement and playful bucks when she is on the lunge line.
I have ridden Jubilee! My appaloosa sport horse Jubilee will turn three at the end of this month, on May 28.
First I stood up on the stirrups and hung my body over her back. That was it for two weeks. Between her trainer, Gretchen, and I she has been ridden four times now. Jubilee is magnificent. She walks slowly and concentrates hard. She enjoys it.
After the first time I rode her, Jubilee said, "You were heavier than I thought you would be. It felt strange to have you on my back." Then she asked, "Is this what I was bred to do?"
I told her, "You were bred for so much more."
She replied, "Maybe we can go jumping now." We are just practicing moving forward to leg contact and steering in both directions, so jumping is a long way away.
After her second ride, Jubilee said, "I was worried I was going to do something wrong and you would beat me."
"Now why would you think that?" I asked.
"Because my friend told me that if you do something wrong you get hit."
I told her that some horses are trained gently and that her friend had a bad trainer. I told her she would always be well taken care of. I also told her to tell her friend that he has a forever home with a person that loves him and that he will always be treated with love.
Jubilee then replied, "When we get better at riding, can we ride down to my friend's pasture so he can see me with you on my back?"
There is heaviness in my heart that Jubilee's friend was beaten and telling Jubilee that she too might be abused. I have heard stories and have watched videos of horses bucking and rearing the first time they have a human on their backs. It doesn't have to be that way. Jubilee is an athletic horse with sometimes firecracker energy but she remained calm, collected, and concentrating when ridden the first time.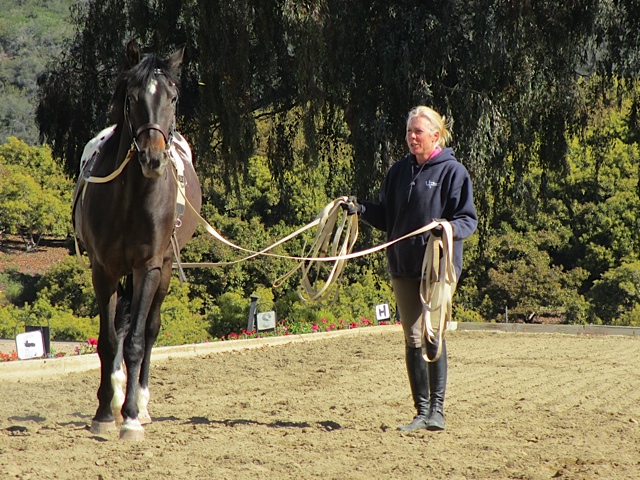 We took our time with Jubilee so that she understood what was expected of her. In the beginning of April, Jubilee went into training. In the last six weeks she has learned how to be tied on crossties in the barn, and to be calm when other horses are around. She has learned to accept a bridle and a saddle. She has learned to accept a hose and water running down her back. Gretchen has taught Jubilee to be long-lined. It is remarkable to watch a horse with lines on either side of her, coming off her bridle, be steered by her trainer from eight feet behind. I have been so proud.
Training does not have to be cruel. The friend Jubilee talks about is a large horse with a kind disposition. I have been told that he has some fear issues. He lives outside with miniature donkey in a pasture close to Jubilee's. I asked Jubilee, "What did your friend say when you told him that he has a forever home where he will always be treated gently?"
Jubilee responded, "He says a heavy hand and a whip always reminds him of something bad coming, and he says that he wishes he could have a magic doctor work on his body so that his body does not hold the fear anymore. He says his mom gives him the best kisses on the muzzle and he knows how much she loves him. But some strangers make him nervous, and he fears the unexpected."
"How did you reply?" I asked her.
She said, "I told him that rearing up can scare people, so maybe he should do that when he is scared." Remember, she is only just about 3.
I told her that is a very bad idea, and can she think of something else to tell him.
"Maybe I will tell him to expect that people will be kind and that most people are trying to help you even though you don't expect them too. And that those people that hurt him are not allowed on the farm or allowed to handle him. Also, I will tell him to live with his heart, and to know that love will expand and make him feel safer. I have learned this and this is better than rearing, because rearing makes you confused. I will tell him to see kindness and love in all that he meets, and maybe he will learn something fun."
Now that is my Jubilee!