Visual Arts
Nathan Hayden, Kate Connell, and Priya Kambli's Current Exhibits
New Shows at Jane Deering and Wall Space Galleries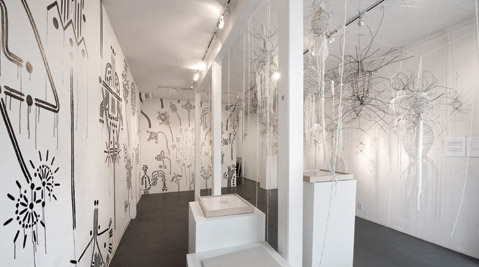 DANCING MAN: Nathan Hayden's work has a great, instantly recog- nizable identity based on look and feel. The confi- dent, consistent tone of his wall drawings and instal- lations is very appealing, and his current show at the Jane Deering Gallery — called go innocent into the forest my chil- dren — may be his best work yet, and will certainly be remembered as one of the signature one-person shows of the year.
Yet in an important way, it's what's behind the work that makes Hayden's story so interesting and origi- nal. These brilliantly jazzy and syncopated visual cre- ations represent parallel engagements by the artist: One is with the surround- ing landscape of the instal- lation space, but the other is strictly with his own particular creative pro- cess.And what is that? Per- haps it's best to let Christi Westerhouse, whose frame shop occupies the rear of the Jane Deering Gallery space, handle this description. She told me this story about Hayden's current installation there:"I was in here working on this big framing job, and Nathan came in to start draw- ing on the walls. He set out his paints and his brushes, he put on his music, and then he started dancing. It wasn't until he was really grooving that he started to paint, and he never stopped dancing the whole time that he was here painting the walls." Intrigued by this vignette, I confirmed the observation with Hayden, who is quite open about his practice."Dancing is integral to my work," he wrote in a statement accompanying the show."I dance one hour each day. The danc- ing brings visions from which I synthesize my work." If this technique sounds interesting to you, or even if you are skeptical and want to see what kind of art could possibly result from getting down, stop by 128 East Canon Perdido Street before the end of May, as the show closes on Thursday, May 30.
CROSSING OVER: Kate Connell and Priya Kambli are showing photo projects together this month at wall space gallery on Yanonali Street. Connell was born and raised in Santa Barbara, and has been taking photos since she was 8. After stints as a commercial photographer in New York City and Austin, Texas, Connell moved to Kyoto, Japan, with her husband and children for two- and-a-half years beginning in 2003. In Kyoto, she took photographs of nature as it appeared to her amid the urban scenery. Focusing on disused backstreets, chain-link fences, and other signifiers of the city, Connell developed a keen, color-sensitive vision that embraces the barriers she encountered both as a Westerner in Japan and as an artist. The photos have now been printed as diptychs, each of which juxtaposes two unique fragments of Connell's highly stylized and sophisticated compositional vision.
Meanwhile, Kambli is based in Kirksville, Missouri, where she teaches photography at Truman State University. The exhibition Color Falls Down examines the contents of the single suitcase with which Kambli immigrated to the United States at age 18. Using a combination of family snapshots, close-ups of keepsakes, and geometric patterns, Kambli creates intricate memory spaces in which absence, loss, and personal history rub up against one another in beautiful, unpredictable ways. Also available through wall space are a portfolio of more recent images by Kambli collected under the title Kitchen Gods. These enigmatic images combine portraits with abstract patterns and then double them by a subtle, unseen mirroring effect. They are haunting, elegant, and suggestive in the most personal of ways. The doubling of the figures refers indirectly to the artist's split cultural identity, but also implies a kind of resiliency and self-reliance. The Connell and Kambli show is called Dislocation, and it will be on view through Sunday, June 9.