Books
Review of Nathaniel Rich's Novel Odds Against Tomorrow
Literature Turns to Climate Change With Humor and Cautious Optimism
As the percentage of climate change deniers continues to shrink, both in the scientific and general population, literature, too, will inevitably focus more and more on the effects of global warming. That might sound like a dreary prospect, but if the books to come are half as good Nathaniel Rich's novel Odds Against Tomorrow (Farrar, Straus and Giroux, $26), there may be a silver lining to the end of the world.
Of course, the future is impossible to predict, but predicting the impossible is the job of the novel's protagonist, Mitchell Zukor. Odds Against Tomorrow begins in the near future, with Mitchell toiling at a low-level position as a corporate mathematician. Late one night he receives a visit from Alec Charnoble (the surname is no accident), a businessman who is equal parts charlatan and visionary. Charnoble recruits Mitchell to his new company, FutureWorld. It is Mitchell's job to demonstrate that the statistically unlikely is, in fact, probable. A worrier and a pessimist, Mitchell proves uniquely qualified to scare the pants off FutureWorld's corporate clients. The clients, in turn, unload their perceived risk on FutureWorld, which, due to an obscure provision of New York state finance law, cannot be held liable for any losses its companies incur.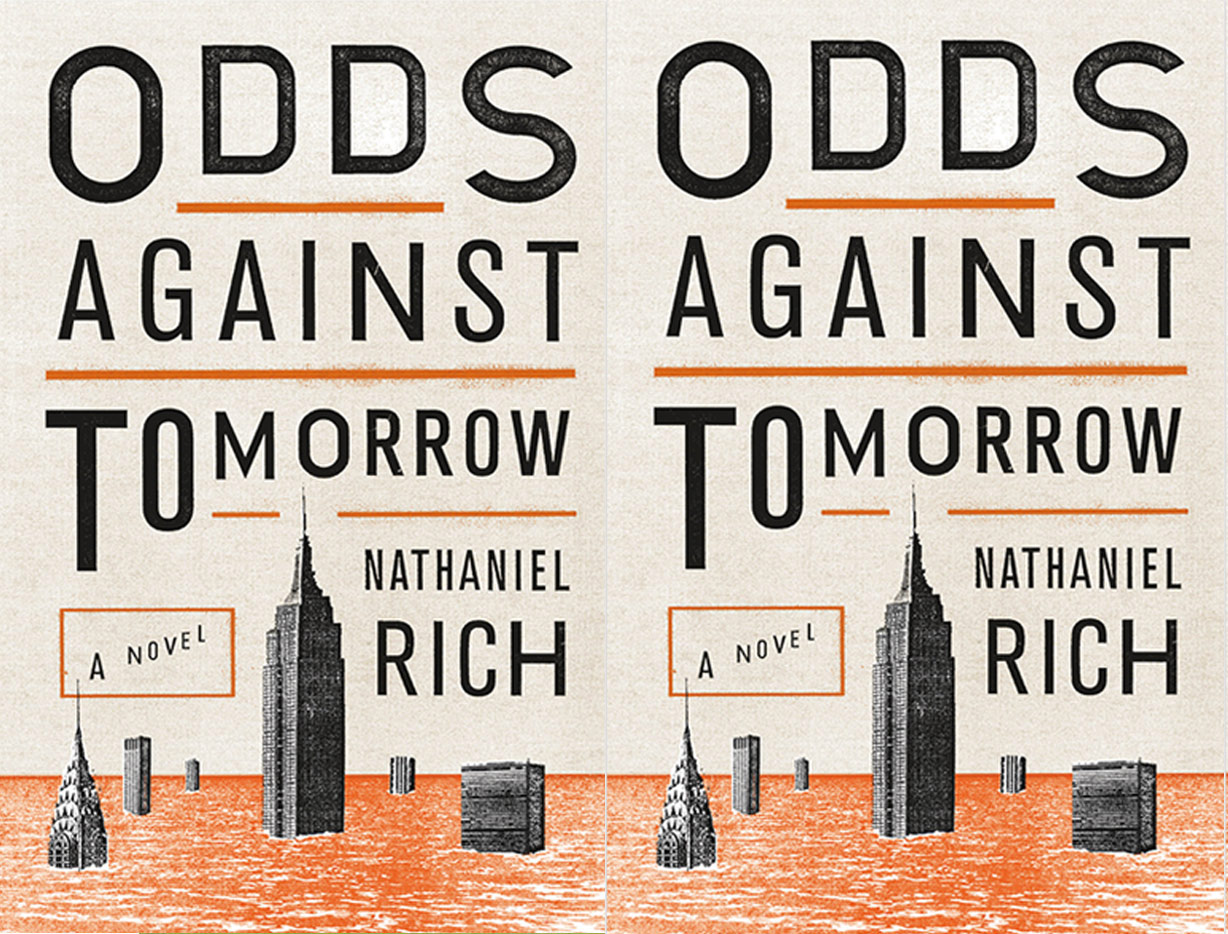 This Delilloesque opening sets the stage for the novel's centerpiece: the flooding of Manhattan by Hurricane Tammy, a meteorological event that makes Superstorm Sandy look like a passing shower. Rich excels at describing underwater New York, and like his hero, he clearly loves examining the details of disaster. As Mitchell and his co-worker, Jane, paddle uptown toward Bennett Park, the highest point on the island, "They saw things they instantly tried to forget. The swollen corpse of a tabby cat, its head unnaturally inclined; doggy-paddling rats; a child's coloring book, the bleeding ink turning the water different colors; a red sports bra."
Hurricane Tammy is FutureWorld's worst-case scenario, but it turns the nebbishy Mitchell into a surprisingly adept adventurer. Now that his fears have come true, he feels called to pursue his goal of reconnecting with Elsa Bruner, a woman he briefly knew as an undergraduate at the University of Chicago. Elsa suffers from Brugada syndrome, a rare disease that leaves her constantly at risk of fatal heart attack, yet she is strangely buoyant. Prior to the storm, Mitchell and Elsa have been corresponding via old-fashioned letters, each attempting to impart a measure of uncertain wisdom to the other. Elsa becomes Mitchell's grail, and the second half of the novel follows his efforts to find her. To divulge much more would rob the plot of its surprises; it is enough to say that things are never easy for Mitchell Zukor.
Despite its dire subject matter, Odds Against Tomorrow is often a very funny book, and it ends on a note of cautious optimism. For all its apocalyptic imagery, the novel's message is a familiar one, perhaps best summed up by W. H. Auden: "We must love one another or die."