Columns
Culinary School Grad Makes Good
Some Like It Hot
Everyone wants to make money doing something they love. One mother/daughter team gets to do just that. Anne and Ali Altamirano make fresh salsa in a local commercial kitchen and deliver their products weekly to stores throughout the area, including the Isla Vista Food Co-op.
The Mesa Salsa Co. wasn't something the Altamiranos had planned on starting. Anne said that she had made salsa for family and friends for years and they loved it. "They would eat a ton of salsa in one go," she said. People even asked her to make her salsa for their parties. Her 19-year-old daughter, Ali, moved back home after finishing culinary school and suggested that she and her mom go into business. Mesa Salsa Co. was born.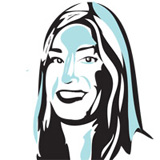 It's All About Family: Ali said that she discovered her love of food while living in Zeanuri, in the Basque region of Spain during her junior year of high school. "It was really interesting to experience the food from a different culture." However, the most important part of the experience wasn't what was made, but how it was made, according to Ali. Cooking together, as well as eating together, "was a family thing. It brought people together," she said.
The Mesa Salsa Co. is based on this premise. "I love working with Ali in the kitchen," Anne said. Her daughter's culinary school experience has come in handy. For example, Anne said her daughter has taught her how to chop certain foods more quickly and efficiently.
What's Not in Mesa Salsa: Anne gives Ali's grandmother, Mariana, credit for having inspired the salsa recipe. "She is a really good cook who taught me a lot," Anne said. When creating her salsa recipe, she took what she had learned from Mariana, and made it her own.
You'll find the normal ingredients listed on the side of the salsa container, including tomatoes, jalapeno and Serrano peppers, and a mixture of spices, but there's one thing you won't see. Mesa Salsa doesn't contain preservatives. While this is one of the elements that makes the salsa unique, it also provided a bit of a challenge when Anne contacted the first market about selling her product last October. The shelf life of Mesa Salsa is ten days, and stores usually stock items that can sit longer. Quickly, Anne worked out a plan and Mesa Salsa was stocked in four stores: Tri County Produce, Mesa Produce, Isla Vista Food Co-op, and Plow to Porch.
Now the salsa can be found in ten locations, including stores in Ventura, Solvang, and Ojai. Anne said that Whole Foods is planning to stock Mesa Salsa in three of its stores in the near future. Convincing the stores to carry Mesa Salsa wasn't difficult: She showed up in person and offered them samples. "I figure I should be myself and let the product speak for itself," she said.
The salsa is made twice a week and delivered on Tuesday or Thursday. "We make an average of 160-180 containers a week," said Anne. It is a lot of work, but she loves it. "I'm willing to put in an amazing number of hours," she said.
Anne thinks that the salsa company has been great for her daughter as well. "It's a good stepping stone for her. She's learning about business and how it works."
You might see Anne around town delivering her salsa or indulging her other passion, singing and performing. Under the name Anne Hall, she plays at Soho, Roy, and a variety of other venues. While you might love her salsa, you'll find that her original music is equally appealing.