Arts & Entertainment
Santa Barbara Writers Conference Celebrates 41 Years
Annual Ode to All Things Literary Kicks Off Saturday, June 8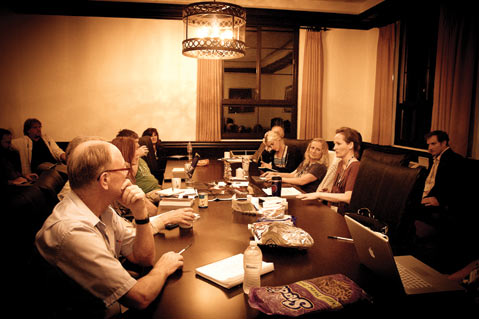 Once a year, Santa Barbara's scribes crawl out of the woodwork (or their desk chairs) for one of the most prestigious gatherings of writers on the West Coast. This Saturday, the 41st annual Santa Barbara Writers Conference kicks off its six-day stay at the Hyatt Santa Barbara, offering up an impressive cross-section of acclaimed speakers, workshops, panel discussions, and parties. For those willing to fork over the dough, it's a week of unparalleled collaboration and networking whereby amateur and established authors mix, mingle, and trade ideas. We recently caught up with conference owner Monte Schulz to get the lowdown on some of 2013's conference highlights.
1. The Speakers: This year's speakers events are open to the public, and the lineup is nothing short of impressive. Among this year's guests are The Perks of Being a Wallflower writer/director Stephen Chbosky, Joy School author Elizabeth Berg, Santa Barbara queen of mystery Sue Grafton, novelist and teacher Jervey Tervalon, and acclaimed and accomplished fiction writer Thomas McGuane. "Years ago, Thom came to the conference, and he stood up and said, 'I don't give speeches, but I'll answer questions,'" recalled Schulz. "He ended up talking for two hours. It was the best thing I'd ever seen at the conference."
2. The Late Nights: In addition to morning and afternoon workshops, the conference will offer late-night "pirate workshops" 9 p.m.-2 a.m. every night, where, many argue, the real magic happens. "Some people are so enraptured by the event that they do everything," laughs Schulz, "and by the end of the week they're walking around looking like they overdosed on the whole thing. It's great."
3. The Memorial: For conference attendees, Sunday, June 9, will also bring an extra-special event: a memorial for Santa Barbara Writers Conference founder Barnaby Conrad, who passed earlier this year. And considering his eclectic backstory, we're certain the stories and smiles will be flowing.
4. The Community: "A lot of people write sitting by themselves, and they think they have this experience that's completely solitary," said Schulz. "Then they come to the conference, and they're in this community of 200 people who share their passion. That's the main benefit of the conference. For all of the people who attend, it's a celebration of their passion for six straight days."
The Santa Barbara Writers Conference runs Saturday-Thursday, June 8-13, at the Hyatt Santa Barbara (1111 E. Cabrillo Blvd.). For tickets, information, and schedules, call (805) 568-1516 or visit sbwriters.com.