Sports
Foresters Off and Running
S.B.'s Summer Baseball Team Aims for National Championship Three-peat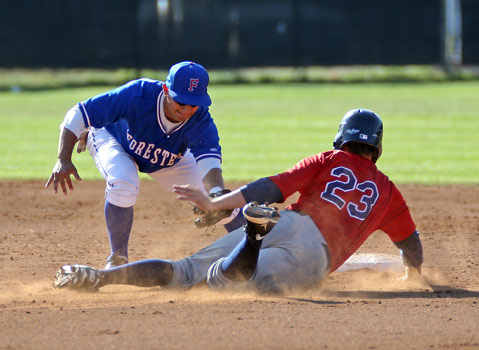 REVELING IN SUCCESS: For two months, outstanding college baseball players from around the country enjoy pleasant summer weather as members of the Santa Barbara Foresters. Then, come August, they are thrust into the furnace of Wichita, Kansas, host city of the annual National Baseball Congress (NBC) World Series. Somehow, they have thrived in the wilting heat, winning four NBC championships since 2006, including the last two.
Steven Reveles, a Goleta native who earned community college All-American recognition as a shortstop at SBCC, figures the Foresters will help him make the transition to his future college home, the University of Nebraska.
"There are two kinds of weather there — hot-hot and cold-cold," warned Austin Darby, a Nebraska outfielder who joined the Foresters this summer.
Darin Erstad, a former All-Star outfielder with the Angels, is Nebraska's head coach. He visited an SBCC practice early in the season and urged Reveles to visit the campus. "Once I went there, it was a no-doubter," Reveles said. "The facilities were top-notch. In the entire city of Lincoln, everything was about the Cornhuskers."
Reveles is a sinewy 5'8" and 170 pounds. "I'm not a big fan of [Boston Red Sox infielder] Dustin Pedroia, because I'm a Yankees fan, but he's only 5'7" or 5'8", and the way he plays the game, hardnosed, get-after-it … I have to admire that."
The Foresters have been getting after it since the start of the season. Through last weekend, they were 8-0. Reveles, their lead-off hitter for several games, was sporting a .375 batting average with 13 runs scored and eight stolen bases.
"I like to run and make things happen on the bases," said Reveles, who led the state with 30 steals at SBCC. That suits the go-go philosophy of Foresters manager Bill Pintard. "This club is aggressive, very aggressive," Reveles said. They scored a run in typical fashion last week. Ben Johnson, a speedy outfielder from Texas, walked, stole second, stole third, and scored on a balk by the flustered pitcher. Their running game did backfire when Reveles was doubled off second base after he broke for third on a pitch that Darby hammered directly at the right fielder. The derring-do still paid off more often than not in Santa Barbara's 7-1 victory over the Atwater Aviators from Alameda.
"We've been taking advantage of other teams' mistakes," Pintard said of the Foresters' fast start. "We'll lose a game some day."
Solid pitching and defense are other hallmarks of the Foresters. At second base, Reveles displays a soft glove that tames hot grounders. He developed a strong arm during two years as shortstop at SBCC, but Keaton Jones of Texas Christian University claimed the shortstop position for the Foresters. "I'll play wherever they need me," Reveles said.
Two players on Santa Barbara's projected roster were drafted and signed by major league teams — closer John Beck (Colorado) and catcher Shane Rowland (Cleveland) — but it will be fortified by four players from Rice University, fresh off an NCAA super regional.
The Foresters will be playing at their home diamond, UCSB's Caesar Uyesaka Stadium, on four consecutive weekends beginning June 21-23. Other important events on their calendar are outings with childhood cancer survivors. The program, known as Hugs for Cubs, was founded by pitcher Eric Pintard, Bill's son, after he was diagnosed with terminal brain cancer in 1994. On Monday night, the Foresters took 20 kids to Dodger Stadium, where they saw L.A.'s struggling big leaguers lose another close one to the Arizona Diamondbacks.
GAUCHO WRAP-UP: Brandon Trinkwon, UCSB's All-Big West shortstop, was taken in the seventh round of the major-league draft by the Dodgers. Two other Gauchos (first baseman Tyler Kuresa and reliever Jared Wilson) were drafted, but the majority of their roster — including an entire starting pitcher rotation — will return in 2014 from a team that was very competitive in the NCAA regional at Oregon State. After beating Texas A&M 6-4, the Gauchos lost a pivotal 3-2 game to the host Beavers, who clinched the regional and also won their super regional to advance to the College World Series.
LONG RUNNING AFFAIR: Between 100 and 200 people will run the trails of the rugged upper Santa Ynez recreation area this weekend (June 14-16). The hardiest will be donning headlamps Friday evening to begin the DRTE (Dirt Roads Trail Endurance) 100-mile run. Others will venture out Saturday morning on routes from 10 to 100 kilometers. Robert Gilcrest, the event founder, has been planning it for five years. He was joined in the effort by Mark Hartell, a running enthusiast with experience as project manager for ultra runs in the U.K. Hartell described the challenge facing the entrants: "Rocks, spiking plants — you don't have those in the U.K. — steep trails and hot sun." There will be basic aid stations, but Gilcrest said, "This is not some city marathon. Please don't expect a huge sponsors' expo, blasting deejays, bells, whistles, or a Toyota Prius raffle."