Drink
Quaffing Condor Trail Ale
Raising a Glass and Funds for 500-Mile Trail Through Los Padres National Forest
Right now, for the price of a pint, it's possible to quite literally taste Santa Barbara's backcountry, at least until Hollister Brewing Company's white-sage-infused and Sisquoc River–tinged Condor Trail Ale runs out. Crafted by the Goleta brewpub to raise $1 per pour for the nearly 500-mile proposed route through the entire Los Padres National Forest, the herbal ale gives just enough aromatic ambiance to recall your last hike in the chaparral but curtails the astringency before it gets unpleasant.
"The sage kind of serves as the hops," said brewmaster and backcountry fanatic Eric Rose, who first discovered Los Padres as a Crane School student under legendary backwoodsman Tony Alvis. "I'm super happy with the beer. It's not like any of the other beers we serve."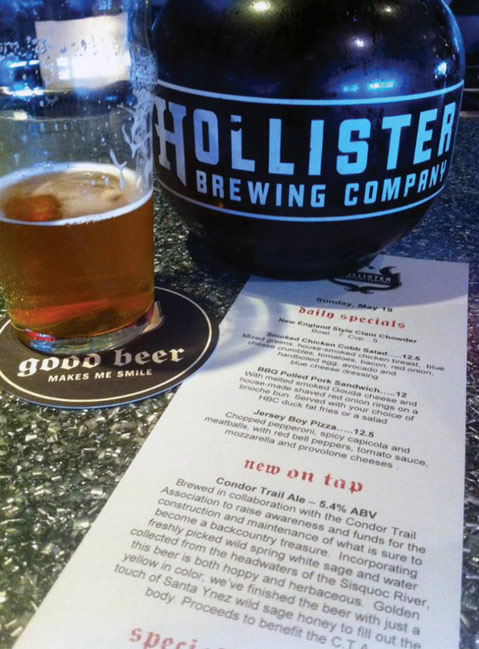 The ale's timing couldn't be better, as the Condor Trail, first proposed in 1996, is gaining more ground than ever before, thanks to the work of UCSB grad and Maps.com cartographer Bryan Conant. Since he took up the charge in 2009, he's run a number of trail-work days, launched the website condortrail.com, and built up a strong social-media campaign, including a recent "virtual hike" of the entire trail on Facebook, where he and his supporters hoped to raise $10 per mile. Though they fell short of that goal, Conant explained, "It was a really good exercise for us to look at every section of the trail and talk to a bunch of different groups across the forest that know the other areas better than we do and figure out exactly where the trail should go."
Plus, after more than a decade of strapped-budget skepticism, Los Padres officials now seem more interested in the idea than ever before, and the Condor Trail is also on the list of routes being considered for National Recreation Trail status, which would be a major triumph.
With the Ventana Wilderness Society recently putting up a $5,000 matching grant, Rose realized it was the best time to do a fundraiser beer, so Conant gathered sage from the La Brea area and hauled out a few gallons of crystal-clear water from the Sisquoc headwaters. "I enjoy it. I think it's good beer," said Conant, now more of a Hollister regular than ever before. "I'm trying to drink about half of it myself." Translation: Hurry up to get your taste today.
Try Condor Trail Ale at Hollister Brewing Company (6980 Marketplace Dr., Goleta; 968-2810; hollisterbrewco.com) and see condortrail.com.