News
Negativity Is Nonproductive
What Improv Teaches about Life
I recently finished a class in improvisational acting at SBCC and learned some wonderful lessons about life and behavior that I thought I would share while on my pedestal, known as my column, this week.
We were told to be bold, which I came to learn had a special meaning when interacting with others in a spontaneous scene. I didn't think I had a problem with being bold, since I have spoken on stage in front of hundreds of people, keeping the audience laughing and engaged.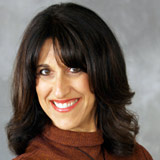 But in class, being told to be "bold" was being told to be positive within the scene. I was given a scenario with my fellow classmates and instinctively chose the route of pretending to be scared of the action that was to take place next. This was explained as "negative" or "defiant" behavior. By saying "no" to what I was to experience, I had inadvertently halted the progress of the dialog and action.
I had never thought in this way about acting before, and I saw some definite connections to the work I do with clients. I was thrilled to be shown how this dynamic operates. It can apply to self-motivation, and to interacting with others both socially and professionally. It is consistent with the theory of thinking positively, versus negatively, to have more consistently positive results and success in one's endeavors.
In improvisational acting there is no room for "No." It puts the remaining players on the defensive or in a position of having to convince you to be positive. The scene moves forward when the players essentially jump in with both feet and complete abandon.
How many of you do this in your life?
We often react based on past patterns. Yet few of us really take a look at those reactions to see if they are still serving us in a way that makes our lives more productive and successful.
Being mindful of how you respond to a situation may very well determine the outcome of it. Generally, the outcome won't be harmed by having a positive attitude and behaving accordingly! A negative attitude, on the other hand, is often a self-fulfilling prophesy. There are even multiple physical and mental benefits to behaving in this positive manner — less stress, for one. Also, if you choose to react in a positive manner to just about everything that comes your way, you often come up with a good solution to any of its associated problems.
All of that adds up to greater productivity.
So the next time you are thrown into a situation, choose the positive route and you might find, like I did, that the scene you're in becomes more successful. Plus, you'll find more reasons to laugh along the way, and can't we all use more laughter?