News
Primary School, Western Kenya-Style
Training Sessions Get Blessings of the Minister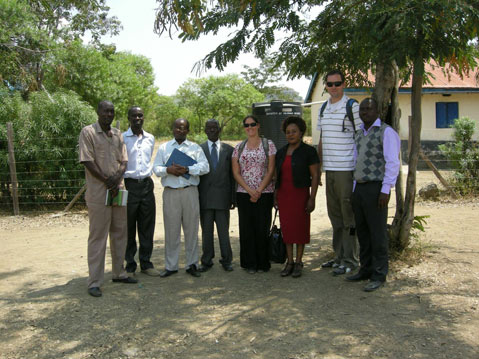 We are gyrating violently through what seems like the middle of nowhere. Are we even on a road? Dust permeates every stitch of my clothes. I can only imagine what will come off my skin when I bathe.
"The car is dancing," Fred says with a smile. Our bronzed 1990s Mitsubishi Pajero is kicking up tornadoes of dust. Children shepherding donkeys strapped with water on our path silently curse our dust-spewing ride. Our bumper sticker assures me that "I have friend in Jesus."
I am thinking to myself, "There is a school out here?"
After traversing planetary landscapes and powering through 90-degree rock crevices, we arrive at a corrugated rectangle tin building filled with small children with beautifully genuine smiles. This is rural primary school, Western Kenya-style.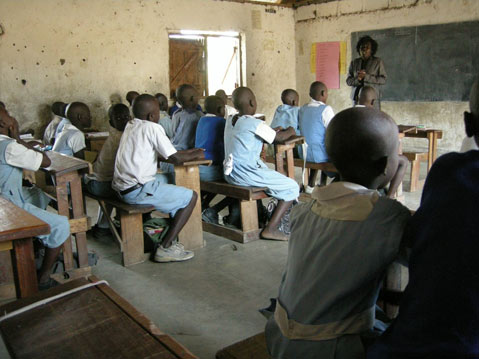 First Days of School … Again
The government officially opened schools throughout the country on Monday, July 22. This allowed Michelle and I to observe teachers implementing the no-cost inclusive strategies we introduced the previous week during teacher trainings. Our two-day observation schedule would take us to seven (often very remote) schools, and we would see 12 teachers in action.
The observations took us to classes where students were participating in community builders and sharing their favorite hobbies and pastimes. Children were performing handshakes and chanting phrases to compliment each other after responding to teacher questions correctly. Students were leaning in on each other as they navigated new academic content in small collaborative groups. We saw very young students taking turns counting to 10, and then go outside to write numbers with sticks in the sand. We were told most of these strategies were new to the teachers and students.
We observed teachers taking risks and making choices to create activities that actively engaged students with and without disabilities in their classes while utilizing existing materials and resources. We observed every teacher utilizing at least one, and oftentimes many more, inclusive strategy they learned from the trainings. We witnessed teachers in Western Kenya move beyond attitudes toward students with disabilities and create more inclusive classroom environments.
Following three days of teacher training, and requiring zero extra resources, teachers in Western Kenya were providing more access for students with disabilities in primary school classrooms. After our observations, Michelle looked at me and said, "It's happening Brent." She was right. It was happening.
Gathering of the Big Gun(s)
I still could not believe that a former housesitting gig in Santa Barbara had led to meetings with the director of UNICEF (Suguru Mizunoya), a national chairman for a disability organization (Jean-Claude Adzalla), and the assistant director of Quality Assurance and Standards for Special Needs Education in the Kenyan Ministry of Education (Anne Musalia). Jean-Claude informed me that he could not make our meeting in the west, but he ensured us that Minister Musalia would be present on his behalf.
We met Minister Musalia as she was touring the facilities and meeting with the administration at a school where we were conducting teacher observations. Michelle and I were invited to an intimate meeting with the minister, the school administration, and multiple members of the local Ministry of Education. The dire funding and staffing issues were discussed, and Minister Musalia vowed to take the issues back to headquarters in Nairobi and have the problems solved by September.
Before parting with the minister, I urged her to attend the final teacher training the subsequent day. She agreed to make an appearance.
Closing Up Kenya
Minister Musalia made good on her word, and she spent the day observing the trainings, speaking with teachers, and looking through past training materials. She participated with teachers as they shared their most memorable inclusive moments from our time together, posed questions they still had about inclusive education, and shared what they would do at their schools to increase access to education for students with disabilities.
Most Memorable Moments:
-The first time to practice inclusion learning strategies in class.
-Teachers from different schools/background working together.
-Being observed by a "mzungu" (white person) in our classrooms.
Questions You Still Have:
-When will you come back for another training?
-Can these strategies be applied to our training colleges?
-Has an inclusive education system succeeded in America?
One New Thing You Will Do:
-Admit students with disabilities in regular schools.
-Put the inclusion learning strategies into practice.
-Advocate for inclusive education.
As the trainings came to a close, Minister Musalia gave some parting words, "The certificates you have been provided are fine, but only provide you local acknowledgement of your participation in these trainings. The head of the Ministry in Nairobi should sign these certificates so you have national recognition for your work here."
If I had a mirror, I am sure it would have shown my jaw lying on the floor.
She continued, "You have my permission to use these new strategies in your classes. If someone from the Ministry comes in and tells you otherwise, tell them you have my blessing."
Benson and the Baton
Our final training event was aimed at passing the baton to Benson so he and his team can sustain the work we initiated over the prior two weeks. We wanted continued community buy-in focused on sustaining a grassroots, bottom-up approach to inclusive education. The final inclusion committee reviewed the priorities set by the members and set at unpacking those objectives.
What started as:
1) Awareness Training
2) Accessible Environments
3) Assistive Devices
Ended up being:
1) Teachers training teachers on inclusive practices
2) Development of parent-teacher support groups
3) Creation of an "inclusion day" at local schools
4) Networking with potential donors, NGOs, and county organizations
5) Providing information to chief's meetings
6) Development of parent-teacher meetings at schools
7) Fundraisers for inclusive activities
8) Student removal of school barriers
9) Inviting students with and without disabilities to the inclusion committee
10) The Head Teacher Association discussing disability awareness activities
Everyone on the committee signed their name to a task. Everyone made a public commitment to furthering the disability rights agenda in the region. Minister Musalia watched on.
As committee members were filtering out of the conference space, Minister Musalia came up to me and expressed, "We need to change our trainings to look just like this because this is the way to do it. We also need to think about how to provide this type of trainings to all teachers."
Minister Musalia wants to replicate our trainings throughout Kenya. Unbelievable.