News
Pet Flipping
Lost and Stolen Dogs Sold for Profit
Pet flipping sounds like it would be a good thing. My husband equated it to house flipping and thought it was when a shelter dog is picked out, given a makeover, and then put up for adoption. Unfortunately, this isn't the case. Pet flipping is a disturbing new crime across the country and it has pet owners worried. "Pet flipping" is the new trend in which lost pets are being sold for a profit. In a typical pet flipping situation, a criminal gets their hands on someone's pet, either by stealing it or by responding to a "pet found" ad. The pet is then quickly sold for a profit.
According to police, pet flipping is on the rise in many cities across the United States. Time magazine reports that pet owners in cities such as Indianapolis and Kansas City, Mo., have had incidents in which their lost dogs have turned up for sale on Craigslist. At least 10 such cases of pet flipping have been reported in Indianapolis this year alone. Police say criminals can make anywhere from $50 to $1,000 on one lost pet, depending on the breed. Officer Theresa Redmon of the Indianapolis Metropolitan Police Department explained, "Sometimes they'll just find a missing pet; sometimes they'll answer a found ad and then they claim to be the owner of that pet. Or sometimes they'll just steal it right out of your yard."
Earlier this year, police in Indianapolis arrested a man named Johnny Jones, Jr., and seized four dogs at the end of a three-month investigation. According to Indianapolis Animal Care and Control, Jones had been acquiring purebred German shepherds, Rottweilers, and Pit bulls for years, some allegedly via illegal means, and he resold many of them.
Indianapolis-based watchdog group Indy Lost Pet Alert claims to have helped reunite 2,670 pets with their owners in the Indianapolis area since March 2012, according to its website. The group's operator, Danielle Beck, told the Indianapolis Star that while she isn't sure that there's been a national increase in the trend, pet owners are becoming more vigilant about it thanks to organizations like hers.
To avoid becoming a victim of pet flipping, police advise that you not leave your pet unattended, even in your own yard, especially if you live in an area that has seen a rise in pet flipping. If your pet goes missing, check the pet section of Craigslist to see if someone is trying to sell it. And most importantly, get your pet microchipped. This way, you can prove it's your dog if someone else finds it. You can have your pet microchipped at most veterinary clinics. Microchips are said to last 20 years, so there is no need to remove or replace it in the duration of a pet's lifetime. And if you plan on adopting a pet, make sure to have it microchipped immediately!
Local Animal Shelters that Microchip
Animal Shelter Assistance Program (ASAP) microchips all of their adoptable cats at the shelter at no cost to the adopter. This registration is valid for the life of the cat. It is the responsibility of the adopter to keep their contact information updated. For more information, visit www.asapcats.org
DAWG microchips all their dogs before they are adopted at no additional cost. Currently, as part of their Pitbull spay/neuter program, they offer free spaying and neutering to Pitbulls and Pitbull mixes, as well as vaccines and microchip at the time of the surgery. They can only do this if they are spaying or neutering the dog, so they don't offer chips or vaccines to Pitbulls who are already spayed or neutered. For more information, visit www.sbdawg.org
K9 Pals offers free microchips for every adopted dog. For more information, visit: www.k-9pals.org
Santa Barbara County Animal Services offers microchipping for dogs and cats for only $40. This includes registration fee. Fore more information, visit http://www.countyofsb.org/phd/animal.aspx?id=1606
Santa Barbara Humane Society microchips all their cats and dogs before they are adopted. The microchip is included in the price of the adoption. For more information, visit www.sbhumanesociety.org
To reduce the chances of your pet being flipped, have it microchipped!!
Adoptable Pet of the Week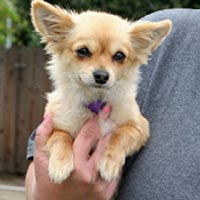 Pixie is an adorable 1-2 year old diminutive female Pomeranian mix who is looking for her forever home. She is a little shy at first with other dogs, but warms up quickly. Pixie loves to be held and snuggled.
To inquire about adopting a dog, visit DAWG in Santa Barbara. DAWG (Dog Adoption and Welfare Group) is a no-kill not for profit dog rescue/adoption organization located at 5480 Overpass Road, Goleta. For more information, call 805-681-0561. You can view more adoptable dogs at www.sbdawg.org. All of the dogs have been spayed/neutered, micro-chipped, are current on their shots, and have flea/tick/mosquito protection. We ask for a minimum adoption donation of $250 for young dogs (under three years), $150 for adult dogs, and $125 for seniors (dogs 8 years old and over).
For more information on our available dogs, call (805) 681-0561, email adopt@sbdawg.org, or come by during open adoption hours, Thursday-Monday, 12-5 p.m.