Film & TV
Review: In a World
Lake Bell, Fred Melamed, and Demetri Martin star in a film written and directed by Bell.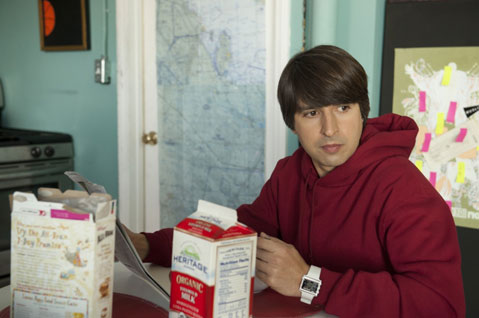 n a world where booming, authoritative male voices lord over the industry of voice-over, one movie at least dares to imagine the tale of an intrepid female making her way into that testosterone-fueled world. Welcome to In a World… and meet Carol Solomon, the accent-virtuoso, freelance voice coach, and aspiring voiceover professional, the daughter of a veteran in the select A-team world of movie trailer talkers. These are the kinds of hidden-in-plain-sight voices heard by millions in coming attractions, but actually seen and identified in the flesh by only a nerdy few.
Clearly, our protagonist character — and its real-life creator, Lake Bell — has a keen gift for finding voices and making others' voices her own. She voyeuristically records ambient discussions around her and is suddenly in the running for a coveted movie trailer gig, challenging her male counterparts, including her father (Fred Melamed) and a narcissistic voiceover stud (Ken Marino).
In In a World…, part of the pleasure is being guided into a niche dimension of the media universe seldom dealt with in a feature film, and catching sight and sound — especially sound, in a film so sound- and voice-obsessed — of said subculture. But another treat here is the sense of discovery in the ever-discovery hungry world of indie film. Is Lake Bell an auteur in the making? An actress on small and large screens, slowly making her way into the realm of the publically recognizable, she suddenly bumps up a few notches in a single bound with her witty In a World…, winner of the Best Screenplay Award at this year's Sundance Festival. Bell wrote, directed, and stars in (oh, and produced) the film, and makes a strong impression in all three modes.
Her dazzling filmmaking debut was, in indie-style, made on the cheap and on the quick, with a game cast — some of which have graced hipper modern television fare, like a 'stache-free Nick Offerman, from Parks and Recreation, TV and Woody Allen film vet Melamed; even Eva Longoria and Cameron Diaz show up. It all comes across with a fresh comic zing, while subtly imparting a message about the importance of redressing a male-dominated field and, trying, to quote the Heart song, to "even it up."