News
Free to a Good Home
Tips for Finding an Appropriate Home for Your Pet
It's almost impossible to walk by a bulletin board without seeing a flyer that reads: "Free to a Good Home" and a cat or dog pictured below it. But if you're trying to re-home your pet, free is not the way to go.
Sadly, the truth is, not everyone who responds to "free to a good home" ads have your pet's best interest in mind. The harsh reality is that there are people out there who may pick up the free pet and use the pet as a breeding machine to churn out more pets to try and sell; use the pet for live bait to train fighting dogs; or even sell the pet to a research facility. Some people may simply want something to abuse, torture, or even kill.
It's understandable if you find yourself in a situation where you need to re-home your pet. However, if you have a pet you can no longer keep, instead of offering your pet for free, here's what you should do:
Ÿ First, ask yourself if you are truly unable to keep your pet. If the reason is an undesirable behavior, for example, see if it is a problem you can correct with a behaviorist.
Ÿ Charge a fee. Even if you charge $20, you will be discouraging people whose intentions are not good. Plus, studies show that a minimal charge for an adoption or re-homing, helps guarantee the new owner will make a long term commitment to the pet.
Ÿ Don't seem too anxious to re-home your pet to the first person you meet. If the potential adopter is serious enough, they will wait a day or two if you ask them to.
Ÿ Ask for references. If you don't feel comfortable asking for personal references, at least ask for veterinary references where current or previous pets went.
Ÿ Be sure to ask lots of questions. Whether the potential adopter has kids, other pets, where will the pet be living, do they have a fenced in yard, do they own or rent, etc. If there are other animals in the home, it's always a good idea to have them meet each other (unless you're dealing with cats).
Ÿ Ask for a home visit. You can always take the pet to the adopter's home when you are ready to surrender the animal.
Ÿ Go with your gut. If it doesn't feel right, don't do the adoption. Don't leave your pet with anyone if you don't have a good feeling about it.
Ÿ Request a follow-up visit. I wouldn't recommend more then one visit, however, or your pet you are trying to re-home will become confused.
"Free to a good home" can mean a death sentence for your pet, without you even realizing it. If there is no alternative for a pet you can no longer keep, you owe it to your pet to find it a home that is safe and happy and hopefully permanent. If the process of re-homing your pet seems too demanding, you can always take your pet to an animal shelter as a last resort. But please, do not post flyers that read: "Free to a Good Home." The home may be anything but good.
Adoptable Pet of the Week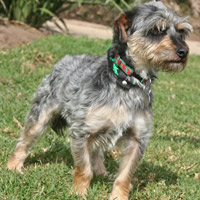 Scruffy is a three-year-old neutered male Schnauzer mix. This fun little guy has such a natural confidence about him. You can't help but be charmed by his happy go lucky attitude. He is cute, friendly, and really likes to be around people. He would probably do best in a male household, with someone that works from home or can bring him along on errands. Scruffy has cool bushy eye brows, big brown eyes, and an attractive sterling, gray, black-and-tan colored coat that will need to be groomed every couple months. He is potty trained. Scruffy will probably be very nice with well-behaved kids, but would prefer to be the only dog in the house. Come in to meet him soon!
To inquire about adopting a dog, visit DAWG in Santa Barbara. DAWG (Dog Adoption and Welfare Group) is a no-kill not for profit dog rescue/adoption organization. You can view more adoptable dogs at www.sbdawg.org. All of the dogs have been spayed/neutered, micro-chipped, are current on their shots, and have flea/tick/mosquito protection. We ask for a minimum adoption donation of $250 for young dogs (under three years), $150 for adult dogs, and $125 for seniors (dogs 8 years old and over).
For more information on our available dogs, call (805) 681-0561; email: adopt@sbdawg.org; or come by DAWG, 5480 Overpass Road in Goleta, during open adoption hours, Thursday-Monday, 12-5 p.m.