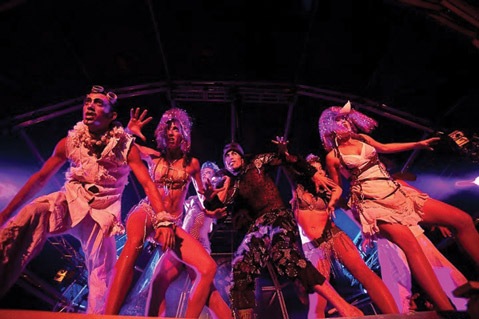 Imagine going to the Arlington for a movie. You see beautiful people performing a series of brilliant, mysterious, and slightly absurd circus acts. There are dancers, intriguing character actors, aerialists, and fire performers. The fantastic soundtrack of exotic, futuristic original music sounds like it was beamed in from a parallel universe.
Now imagine being in that movie, rather than just watching it, and you'll begin to have some idea of what the Lucidity crew have planned for Friday, October 4. That's when Lucidity at the Arlington: Rising Vibes for the Universe is set to touch down in downtown Santa Barbara. The event, which spawned out of the multiday Lucidity Festival held each spring at Live Oak Campground, is being led by Spencer Weiner and Jonah Haas, who have put together a night that will include the first downtown Santa Barbara appearance of the acclaimed psychedelic steampunk neo-circus known as the Lucent Dossier Experience.
Long a favorite at Burning Man and like-minded events around the world, Lucent Dossier have in recent years come to represent an unprecedented level of crossover acceptance for what began as an underground phenomenon. Emerging from the desert parties of Moontribe, the Lightning in a Bottle events, and a game-changing residency at the Edison in downtown Los Angeles, the group has become the entertainment of choice for everything from Illuminate: Unicorn Meat, a giant warehouse rave that took place on the border of Brooklyn and Queens last weekend, to the Emmy Awards' Governors Ball. Lucent producers Dream Rockwell and Dayna Riesgo travel the world creating dreamlike scenarios. Riesgo has described their aesthetic as "vaudeville meets the future dressed as a Victorian Mad Max warrior." One entertainment reporter put it more bluntly after his initial encounter with the group at an event in Los Angeles, calling Lucent "Marie Antoinette gone wrong. Cirque Du Soleil on acid."
I spoke with both Dream Rockwell (from New York, where she was prepping for Unicorn Meat) and Dayna Riesgo (from Hollywood, where she was negotiating for a parking spot) last week, and I'm delighted to report that success has done nothing to tarnish the playful enthusiasm and go-with-the-flow attitude they bring to their art. Rockwell has been with the Experience from the very beginning and her influence can be felt in every aspect of what they do. Asking her about the special nature of Lucent, she answered without hesitation. "After the first show, the response was amazing," she said. She said she struck a common theme among the Dossier folk, which is a passionate connection to the people who dress up and come out for their performances. "We saw our first audience, and we knew something was about to happen," she said. After several seasons at Coachella and Burning Man, the group took a residency at the Edison, a stunning alternative lounge space in the sub-basement of the Higgins Building in downtown Los Angeles. The combination of Edison designer Andrew Meieran's retro-futuristic fantasy space and Lucent Dossier's particular brand of immersive performance turned out to be one of those rare, unforgettably perfect matches that make nightlife history. Lines formed around the block, and the international press coverage went through the roof.
This was in 2010, and still today, what Dayna Riesgo keeps coming back to are her memories of the wonderful, interesting people who showed up. "I used to love checking out who was in the line," she told me. "I was fascinated. They were showing up in these incredible outfits, fantastic handmade clothes and hats, makeup and wigs. They were like us, but we didn't even know who they were." She still likes the scene at the door. "We did a recent show at the Palace in downtown L.A.," she recalled, "and I had to ask this woman about her gloves. They were unreal. It turned out everyone in the party she was with was in his or her fifties, and they were wearing some of the best costumes I've ever seen." This core Lucent Dossier fan base is likely to be well represented at Lucidity, as the group's events in Santa Ynez reach out to the same broad age range of deliriously costume-happy adults.
That's just one of the reasons why they are looking forward to making the scene in Santa Barbara. "We've been doing a lot more high-profile stuff lately," said Rockwell, referring to the three years of big Grammy parties and two with the Emmys. "I guess we have been discovered by Hollywood." But listening to Riesgo describe how they "tweak" their offerings for different situations, one hears the same pure heart going into the occasional bar mitzvah (yes, they've done them) as the most decadent of underground private parties. What brings it all together is a certain willingness to engage. As for Rockwell's message to the people of Santa Barbara: "Come ready to play."
4•1•1
Rising Vibes for the Universe comes to the Arlington Theatre (1317 State St.) 6 p.m.-1 a.m. on Friday, October 4. Prior to and during the first part of the event, there will be a free Lucidity Village set up outside the Arlington with family-friendly entertainment and vendors. In addition to Lucent Dossier Experience, the lineup includes VibeSquaD Live, The Human Experience with Rising Appalachia, and Govinda, among others. Call (805) 963-4408 or visit facebook.com/lucidityfestival for tickets and info.