Positively State Street
Meet the Downtown Sound Final Six
Our Battle of the Bands Heats Up this Friday, October 4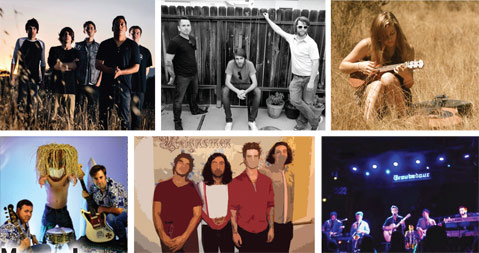 PREPARE FOR BATTLE: That's right, friends; this Friday, October 4, marks the fourth year of our annual Downtown Sound Battle of the Bands. And boy is it going to be a big one. For 2013, we've switched up the rules a bit and brought on board a distinguished team of music-industry tastemakers to help us choose Santa Barbara's best new band. Alongside a roomful of ballot-casting audience members, our panel of judges will oversee, critique, and cast weighted votes for their favorite of the six live acts. Manning the judge's booth is Independent staff writer D.J. Palladino, KjEE deejay Dave Hanacek, KCSB Music Director Ted Coe, Muddy Waters Café proprietor Bill Lewis, SOhO Restaurant & Music Club owner/manager Gail Hansen, New Noise President and Cofounder Jeff Theimer, and are music-minded writers, bookers, proprietors, and programmers from The Santa Barbara Independent, New Noise Santa Barbara, KCSB, KjEE, Muddy Waters Café, Whiskey Richard's, and more.. And as for the prizes, well, there are many. The winner of this year's Downtown Sound will receive 12 hours of pro-studio-recording time at Playback Studio, $5,000 worth of guitars and gear from Ernie Ball, $100 in gas from Fuel Depot, $50 to The Palace Grill, a $300 professional photography package from Lady McClintock Studios, $120 worth of car washes from Fairview Carwash, a marketing prize pack from CoMotion Media, apparel from Powell-Peralta, a slot at this year's New Noise Music Conference & Festival, a song featured on KjEE 92.9FM, and a feature article in next week's Santa Barbara Bands issue of The Independent. But before it all goes down, it's time to get prepped. Allow me to introduce 2013's Downtown Sound final six.
BEARS AMONG MEN: If you thought hardcore was dead … think again. This Lompoc-born five-piece is combining the sweet harmonies of early 2000s emo with the thick, chugging guitars and pummeling drums we've come to associate with the metal movement. Whatever you call it, though, the band's enormous sound and incongruous mix of vocalists make for something special. Think Further Seems Forever meets A Day to Remember.
EASY BEAR: Santa Barbara trio Easy Bear likes to keep things simple. Started off as a two-piece by frontman Joey Enthoven and drummer Matt Lopez, the band eventually added bassist/vocalist Noah Donnelly to fill out their lo-fi pop setup. Together, the guys navigate the road between art rock à la The Killers and folk anthems in the vein of Phosphorescent. The jams are big and triumphant; the production is minimal and straightforward; and the characters are, more often than not, love struck and affectionately idealistic.
JAMEY GESTON: Singer/songwriter Jamey Geston may only be 14 years old, but she's already showing a sense of poise and promise that belies her age. Whether accompanied by an acoustic guitar or a piano (or both), Geston's voice is sweet, powerful, and surprisingly nuanced. She name-checks everyone from The Kooks to Joni Mitchell as influences (we hear traces of Vanessa Carlton and Regina Spektor) and pens her own songs to boot. Oh, to be young.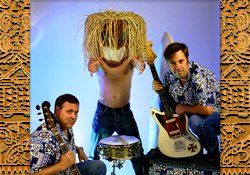 KELP: This year's lone instrumental offering comes from S.B. surf rockers Kelp. Following in the footsteps of Cali rock innovators like Dick Dale and Paul Johnson, the trio winds tight, catchy, and frenetic guitar licks around steadily driving drums. But there's something dark lurking beneath the surface of Kelp's familiarly surfy tones. Sans vocals — and chock-full of reverb — the band's psychedelic jams call to mind modern genre-hoppers like Allah-Las and The Entrance Band: equal parts proggy progressions and '60s-imbued beach-blanket nostalgia.
THE REIGNSMEN: The Reignsmen may have been this year's audience pick, but don't let that fool you — these four young gents were a hit with the judges, too. Their sound is a galloping and rambunctious mix of Social Distortion–style rockabilly and that neo-folk phenomenon that has catapulted the careers of Mumford & Sons, The Lumineers, and The Head and the Heart. In short, expect rock 'n' roll with a heavy helping of jingle jangle, as well as choruses that dare you not to sing along.
SIDEWALK AFFAIR: Things are guaranteed to get sexy when Santa Barbara newcomers Sidewalk Affair hit the stage this Friday. Taking cues from modern-day soul makers like Aloe Blacc, Fitz & The Tantrums, and Mayer Hawthorne, these fellas know when to ramp it up. (See the band's funky fist pumper "Soultry Lady.") But Sidewalk Affair may be at its best when things wind down a bit; the group's "Sidewalk Affair" sounds like the slick, smooth, and kinda cheesy stuff you'd hear on Art Laboe's late-night shout-out show. And we mean that in the best way possible.
The fourth annual Downtown Sound Battle of the Bands takes place this Friday, October 4, at 8 p.m. at SOhO Restaurant & Music Club (1221 State St.). Doors open at 7:30 p.m. Tickets are $8 presale, $10 at the door. Call (805) 962-7776 or visit newnoisesb.org for info.