News
Adopt a Shelter Dog Month
Area Shelters Have Special Deals
The Humane Society of the United States estimates that 39 percent of U.S. households own at least one dog. If you are part of the 61 percent that does not own a dog and have been thinking of adding a new dog to your family, now is the time to do it. October is national "Adopt a Shelter Dog Month" and the American Humane Association and area animal shelters all across the nation are uniting to promote rescuing a homeless dog during the month of October.
"Right now there are millions of loving dogs in every size and shape imaginable waiting anxiously in local shelters for a home of their own. By choosing to adopt a dog during Adopt a Dog Month, pet lovers are working to decrease the number of animals left homeless each year– a mission American Humane strives for each day," said Marie Belew Wheatley, former president and CEO of American Humane Association.
Research has proven that dog owners have lower blood pressure, cholesterol, and triglyceride levels; and suffer less stress, depression, and loneliness than those who don't own pets. A study conducted at Kean University in Union, New Jersey, found that people feel better after watching a Lassie movie because of a drop in their cortisol levels, a hormone associated with stress. And it's not just cortisol that's affected by animals. Patricia McConnell, a certified applied animal behaviorist, writes in her book For the Love of a Dog, that levels of oxytocin, a mood-affecting neurotransmitter and "feel-good" hormone in the brain, increase by simply petting a dog.
If you've decided that you and your family are ready for a dog, there are some things to consider before you adopt:
Ÿ Make sure you are willing to make a 10-15 year commitment to the dog. This means if you change jobs, add to your family, move out of state, etc., your dog goes with you.
Ÿ If you have youngsters in the house underfive5 years of age, you may want to consider a larger, mellow dog.
Ÿ If there are elderly or physically challenged individuals in the house, you will want to avoid extremely active, adolescent dogs.
Ÿ Decide who will be the primary caretaker of the dog. Even though all the family members should share in doggie duties, there should always be one adult who is ultimately responsible for the dog.
Ÿ Make sure all the family members are present when a dog is selected. This experience should be shared with the whole family and shouldn't be a surprise to anyone.
Roughly 10 million animals enter shelters each year in the United States alone. Adopt a Shelter Dog month helps focus attention on the pet population problem we face in this country. Help make a dent in this problem and adopt a dog today! Don't forget, if you don't see what you're looking for at your local animal shelter, you can still rescue an animal by going through petfinder.com
Santa Barbara Rescue Groups are Offering Specials for the Month of October
Santa Barbara Humane Society: Reduced adoption fee during the month of October.
There are more than 100 dogs eagerly awaiting adoption at the S.B. Humane Society. Among the available adoption dogs are purebreds, mixed breeds, young, old, big, small, and everything in between. They have dogs who are good with children; dogs who would make good running companions; lap dogs; and "therapy dogs" who will make you forget your problems, if only for awhile.
The Humane Society maintains detailed health and temperament profiles on each adoption animal, and will help prospective families make a good match when choosing their new canine companion. Their reduced adoption fee during the month of October is $49 (25 percent off the normal fee) and includes an initial health examination, vaccines, spay/neuter surgery, temperament evaluation, microchip with registration, and a starter pack of food. visit the, 5399 Overpass Rd. Shelter hours are Monday-Saturday, 10 a.m.-4:30 p.m. For more information, call (805) 964-4777 or visit Santa Barbara Humane Society for more information.
DAWG: Offers free spay/neuter to pit bulls and mixes year-round, DAWG provides free spay/neuter, free vaccinations, and free Home Again microchips to pit bulls and pit bull mixes. DAWG (Dog Adoption and Welfare Group) is a no-kill nonprofit dog rescue/adoption organization located at 5480 Overpass Rd. The public is invited to stop by and look around every day from 9 a.m. to 4 p.m.
DAWG relies on volunteers to take care of all the dogs, so if you love dogs, think about volunteering. Students are able to fulfill their volunteer community service requirement by volunteering. Volunteer orientations are generally held every other Saturday at 10 a.m. Contact DAWG for the next meeting. For more information, call (805) 681-0561. You can view adoptable dogs at www.sbdawg.com
Adoptable Pet of the Week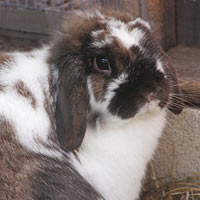 Coral is a gorgeous female Holland lop who is looking for a loving home. Holland lops are known for their sweet temperament and nonaggressive behavior, though they retain a certain doglike tenacity, which most people love! To see if Coral is the right rabbit for you, hop on over to B.U.N.S. today. All rabbits at B.U.N.S. are spayed or neutered prior to adoption.
Bunnies Urgently Needing Shelter (B.U.N.S.) is a volunteer organization that cares for abandoned rabbits. B.U.N.S is located at the Santa Barbara County Animal Shelter, 5473 Overpass Rd, Santa Barbara California. B.U.N.S. works to find bunnies permanent homes, and educates the public on caring for a companion rabbit. You can call the County Shelter at 805-681-5285 or call BUNS at 805-683-0521 and leave a message for someone to call you back. For more information, visit: www.bunssb.org