Sports
Quieting the Limbic Lizard
Sports Psychologist Steve Smith Says Let the Robot Take Over
Whatever was going through Juan Uribe's mind in the eighth inning Monday night, he certainly was not fretting about his failure to lay down a bunt. It freed him to swing away, and on a 2-2 pitch from Atlanta's David Carpenter, he smacked a two-run homer that put the Dodgers in the National League Championship Series.
Sports psychologist Steve Smith would say that Uribe let his robot do the job. His robot? That's what Smith calls the cerebral cortex, the part of the human brain that provides a calming focus in situations fraught with anxiety. "The robot is logical. The robot plans. The robot understands. The robot stays cool," Smith said last week in a presentation at Westmont College. "The robot tells the limbic lizard to be quiet."
The limbic lizard? That's what Smith calls the limbic system, a primitive part of the brain that unleashes emotions. "It overreacts to everything," he said. "It's the first thing that happens when you have a sensation of discomfort. The limbic lizard will freak out, and you can't stop it."
Smith has been busy counseling athletes in the greater Santa Barbara community. The Harvard-trained psychologist joined the faculty at UCSB in 2004 and has set up a private practice, the Sport Psychology and Research Center. He was a consulting psychologist for UCSB's Intercollegiate Athletics Department and has continued to work with the baseball team.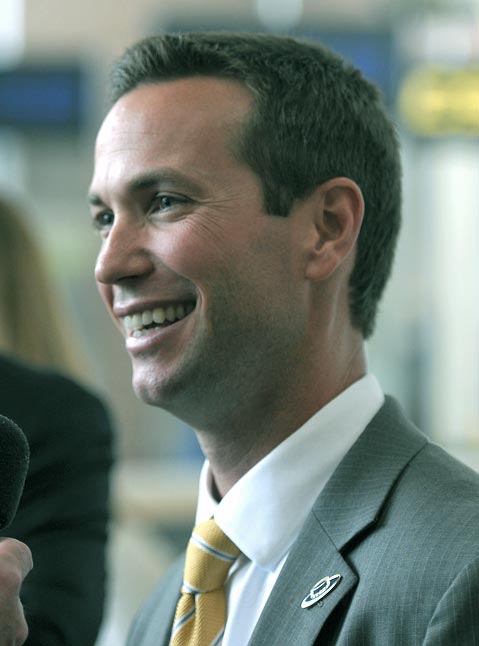 "He's got good information," Gaucho coach Andrew Checketts said. "He talks straight and keeps it simple." As a young coach, Checketts welcomes the relatively new field of sports psychology into his program. "People look for any competitive advantage," he said. "The mental side is what separates all the players who are big and quick and throw hard. It's more about what's between the ears."
At the professional level, psychologists are widely employed by major league teams and athletes. Beach volleyball star Kerri Walsh Jennings said she achieved her third consecutive Olympic gold medal with the aid of sports psychologist Mike Gervais. "He helped us [Walsh Jennings and her partner Misty May-Treanor] get out of the worst rut of our career," she said. "He taught us the process is so important. My mind has been a sprint, but [getting to the Olympics] is a marathon. I need to be grounded. There are no big moments; everything's the same." At the AVP Santa Barbara Open last month, she had a new partner, April Ross, but it was the same-old Kerri Walsh Jennings, hitting everything in sight. It's easy to see her winning a fourth gold in 2016.
Todd Rogers, an Olympic champion in 2008, said personal psychologists are a luxury few volleyball players can afford. As one of the most cerebral players on the beach, Rogers is sometimes approached for advice. "I tell them it's just a game," he said. "I've seen guys go off on their partners when they screw up: 'You're killing me! This is my life!' I say, 'Hey, man, it's not your life. You've got a family. This is just a job and a game.'"
Smith, who began his career as a child psychologist, shifted his emphasis to sports because of his own experiences as a bicycle racer. "I got into sports psychology because I wanted to do better," he said. "What is the mechanism that will get the best performance out of me? How does it work?" His inquiry led him to the brain. "I'm in love with the brain," he said.
His audience at Westmont College was the cross-country team. It was easy for Smith to tailor his message to them; he is all too familiar with the physical discomfort that arises in a stressful endurance race. The limbic system kicks in with a fight-flight response. "It tells you to back off from discomfort," Smith said. "It will lie to you: 'I shouldn't have had that burrito last night … This feels awful; I'm gonna die … My eyeballs are bleeding!' The limbic lizard fights you." If it wins, you lose. "The easiest way to deal with the fear of losing is to lose," Smith said. "That way you don't have to be afraid anymore."
Enter the robot. The enlightened mind does not extinguish the pain and the anxiety, Smith said, but it enables you to deal with it effectively. He explained the process with three words: anticipation, acceptance, and attention.
"Anticipate that things are going to be difficult," Smith said. "Where is the monster going to show up in the marathon? Anticipation gives you power." Along the same lines, acceptance of physical and emotional discomfort makes it more bearable. Smith told of a golfer who stood over a crucial four-foot putt with his hands shaking. "He stepped back and thought, 'Wow, I'm anxious.' Those feelings won't go away. Accept the fact that they are there. Just don't feed them. . . . He went back and made the putt."
Golf is "the most psychologically demanding sport, hands down," Smith said in a separate discussion. "Golfers are the only athletes who ask me, 'Are you a golfer?' No, I don't take heroin either. It destroys your mind." A round of golf is a prolonged battle against mental demons.
Attention is the key to keeping feelings of anxiety and doom at bay. "You can control your attention," Smith told the cross-country runners. "Give the robot something to do, and the limbic lizard goes quiet." He suggested the runners might focus their attention on an external object, like the tag on a shirt, or, better yet, a relevant internal stimulus, like one's breathing, the rhythm of inhaling and exhaling.
"Are there any strategies that will bring out the limbic lizard in our opponents?" a runner inquired. "Smiling freaks everybody out," Smith said. "Count the guys you pass out loud," suggested athlete Seth Gruber. "That's evil," the psychologist said.
Smith puts little stock in confidence, terming it cheap and artificial. "Confidence and anxiety are both predicting the future," he said. "Too much confidence, and you get sloppy."
Whether one's job is to run fast or hit a baseball, Smith emphasized, the best thing an athlete can do is to let his or her robot do the job.
SKIP'S ADVENTURE: Former UCSB baseball player Skip Schumaker had two contrasting at-bats for the Dodgers on Monday night — one of the most replayed hits, and another swing that hardly anybody noticed. Schumaker, the starting center fielder throughout the division series against the Braves, singled in the fourth inning on a drive hit so hard that it tore the glove off Atlanta first baseman Freddie Freeman. In the eighth inning, Schumaker followed Uribe to the plate and flied out while everybody was still celebrating Uribe's big home run.
FOOTBALL CITY: In addition to Saturday night's battle of unbeatens between Carpinteria and Bishop Diego High football teams, there is another cross-town game Friday night when Dos Pueblos visits Santa Barbara High; San Marcos, which lost for the first time in six games at Nordhoff last week, starts out Channel League play at home against Ventura.