Food & Drink
Ménage à Trois Dinner Series
A Threesome of Chefs — and Their Restaurants — to Host Collaborative Dinner Series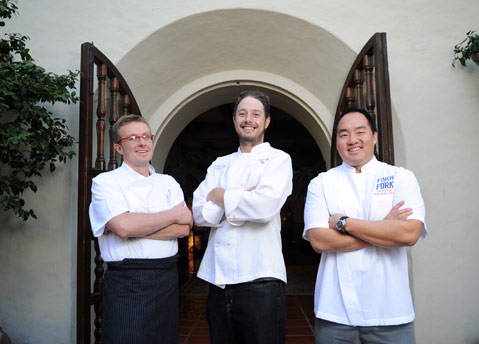 Know what's awkward? Calling a source to ask for information regarding a ménage à trois. (Oh, what I do for my readers. Please bear with me as I attempt to get through this without inadvertently ripping off any cheap sexual innuendo from an old episode of Three's Company.)
This threesome is strictly professional: a dinner series that will take place over three sequential Thursdays (beginning tonight, October 10); each will showcase three amazing chefs from three different restaurants, collaborating to put forth spectacular three-course menus (plus cocktail-hour nibbles, all paired with wine), in honor of this month's epicure.sb celebration.
The endeavor was born out of a combination of tradition and practicality. Years past saw some collaborative dinners hosted at the Four Season's Bella Vista and progressive dinners of sorts that involved gatherings at the Canary's rooftop, followed by pilgrimages to restaurants including bouchon, Seagrass, and Wine Cask. But let's face it: Progressive dinners are always better in theory than in practice. And that goes double — nay, triple! — when the stops along the way are actual restaurants, as opposed to home kitchens. So the powers — and chefs — that be at Wine Cask, the Biltmore's Bella Vista restaurant, and Finch & Fork put their heads together and came up with the idea for this glorious Ménage à Trois. And yes, that's what they are officially calling it.
The threesome represents some of S.B.'s best chefs: James Siao of Finch & Fork at the Canary, Brandon Hughes of the Wine Cask, and Alessandro Cartumini of Bella Vista at the Four Seasons. Each will host one night; the home chef will handle the appetizers and the main, while the others provide the first course and dessert. And it'll all be washed down with some of our area's best wines.
Let's move on to the food porn (ahem):
Tonight's dinner will see Siao hosting Cartumini and Hughes at the Canary. The evening will begin with a reception on the rooftop and Siao's deviled eggs, grilled oysters, and cheddar hush puppies with chipotle honey. From there, the party moves to the dining room for a feast that will begin with pear salad with chard, toasted five-spice pecans, roasted duck, and honey-mint vinaigrette (Hughes); continue with seared prime strip loin and local spot prawns, bone-marrow butter, cauliflower puree, fire-roasted Brussels sprouts, and chimichurri (Siao); and finish with caramelized pear and ricotta cheesecake with avocado honey/pine-nut brittle (Cartumini and pastry chef Don Hall).
Next Thursday, October 17, the action moves to the Wine Cask, where Hughes will step into the spotlight, kicking things off in the courtyard with heirloom-tomato-and-lemon-basil arancini, chanterelle tartlets, roasted-beet-and-apple "tartare," and cured yellowtail and sea beans on water crackers. Dinner will begin with Kabocha squash ravioli with smoked pumpkin seeds, sage, brown butter, and Humboldt Fog cheese (Cartumini); continue with a wagyu beef duo — grilled N.Y. strip with chanterelles and kale, and beef cheeks with fig "risotto" (Hughes); and finish with butterscotch pot de crème with spiced-apple compote, oatmeal crumble, and bacon almond crisp (Siao).
The finale will go down Thursday, October 24, at Bella Vista. The terrace reception will feature Cartumini's bites, including local snapper crudo with finger lime and shishitos; artichoke fritto with pecorino and chives; saffron risotto arancini with oregano-bell-pepper fonduta; and ginger-seared scallops. Dinner will start with smoked pork cheek, chili caramel, roasted-butternut-squash puree, shaved beets, and hazelnuts (Saio); next up is braised beef short ribs and lobster with polenta, carrots, gremolata, and radish (Cartumini); and a warm apple dumpling and vanilla pudding with apple salad will wrap things up (Hughes, pastry chef Rosie Moot).
Turned on? Me too. (And three.)
4•1•1
The dinners all begin at 6:30 p.m. and cost $90 each, but $250 will get you into the full Ménage à Trois. Tickets can be purchased via nightout.com/events/threechefs-epicuresb or by calling the restaurants individually.