Columns
New Ways to Change the World
It used to be that those who wanted to give back to society joined the Peace Corps, signed up to sail with Greenpeace, or signed up for government service, but things have definitely changed. Now those who seek to change the world can do it in new and creative ways. Many groups and organizations are doing just that, and there are three I'd like to highlight.
ShareBrands and Social Change
A visit to a local Starbucks gave me an opportunity to meet two young men from Colorado whose story was compelling. I chatted with Justin Hoffman and Connor Knutson, cofounders of a start-up called ShareBrands, about their business, the similarities between Santa Barbara and Boulder, Colorado, and the way a trip through Los Angeles can leave you feeling anxious and claustrophobic. They were on the last leg of a bike tour from Denver to San Francisco to promote their business, which seeks to bring about social change through connecting consumerism to philanthropy. They explained that they had a list of products for sale that people use everyday, such as headphones and yoga mats, that were color coded to connect to a particular charity.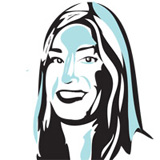 For example, a portion of the proceeds from blue-colored items is dedicated to Project Angel Heart, an organization that delivers nutritious meals to those coping with life-threatening illness; yellow to Rays of Grace, a group working to establish a school in Uganda; and red to Friendship Bridge, whose mission is to provide education and microcredit to empower Guatemalan women.
What I liked about Hoffman and Knutson was the fact that they were committed to their cause without being cocky. They believed in what they were doing but were the first to admit that they didn't know everything. They said that they were partnering with an environmental group from the University of Colorado Boulder to choose which organization to support when people purchased green-colored items meant to support environmental causes. In addition, they picked their charities with care. They had discussed whether to support Rays of Grace, which is dedicated to building a school in Uganda, or a group with a local mission. After weighing the pros and cons, they said that knowing $45,000 could make a big difference to the success of the endeavor made them lean toward supporting Rays of Grace.
Lighting the Way
Another group bringing about change in a novel way is a nonprofit affiliated with UCSB called Unite to Light. Founders John Bowers, director for the Institute for Energy Efficiency (IEE) at the university, and Claude Dorais, an attorney with Dorais, McFarland, Grattan & Polinsky in Santa Barbara, created the nonprofit to provide affordable reading lights for children in Africa.
In Africa, many people depend on kerosene lamps for light, and these lamps cause both health problems and economic challenges. Children in Africa may have difficulty reading or doing homework after dark because of a lack of safe and affordable lighting. Unite to Light was formed to help address this need. The organization now works with 100 organizations in 60 countries to bring solar lights to those in developing countries.
A Unite to Light reading lamp costs $20, and for each one bought, one is given to an organization of your choice. You can choose to donate a light to such groups as Direct Relief, Goats for Life, or Solar Sisters. The lamps can provide up to eight hours of use, are lightweight, and are designed to provide several years of use. I first met a Unite to Light representative at Isla Vista Elementary School's Science Fair and was intrigued with the concept. Other schools in the area have been involved in Unite to Light fundraisers. For parents and children, the idea that an everyday purchase can make such a big difference in another person's life is a big attraction.
SNAP Seeks to Mold the Future
While there is a simple beauty from linking consumerism to a higher cause, there are other noteworthy ways that people are shaping our future. The Nature Conservancy (TNC), the Wildlife Conservation Society (WCS), and the National Center for Ecological Analysis and Synthesis (NCEAS), a UCSB organization, have teamed up to tackle the world's conservation and human development challenges by forming a group called SNAP (Science for Nature and People). If you've watched the movie The Day After Tomorrow, you'll know that it's crucial that we have contingency plans in place when nature goes awry. Hurricane Sandy is an example of what can happen when environmental conditions change and cause devastation. SNAP's mission is "to find practical, knowledge-based ways in which conservation of nature can help provide food, water, energy, and security to Earth's fast-growing population … [and] tackle high-profile problems where the solution has a clear pathway to implementation."
The names of SNAP's first working groups explain their dual focuses — Coastal Defenses: Using Nature to Protect Our Shorelines from Hazards, and Western Amazonia: Balancing Infrastructure Development and Conservation of Waters, Wetlands and Fisheries. For example, the working group looking at coastal defense will evaluate what can be done to protect the coasts using natural resources, like wetlands, and the economic feasibility of such endeavors.
It takes a global effort to make our world a better place. While it may often seem like things are only getting worse, there is always a group of people out there who want to make things better. If you don't have the desire to start your own group, you can use your buying power and awareness of important issues to make a difference. It takes one chance encounter in a coffee shop to make you remember that doing nothing is not the best option.