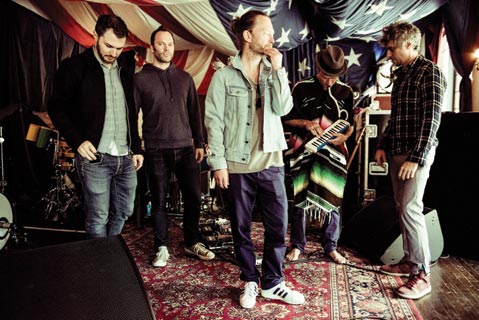 PEACE ON EARTH: What happens when the frontman for one of the biggest rock bands on earth decides to branch out? Well, if you're lucky, you get something like Atoms for Peace, the arena-sized "side-project" of one Mr. Thom Yorke. Together with longtime producer/collaborator Nigel Godrich, Red Hot Chili Peppers bassist Flea, R.E.M. drummer Joey Waronker, and percussionist Mauro Refosco (of Forro in the Dark fame), Yorke's Atoms are a rock 'n' roll supergroup redefined — smart, unpretentious, and surprisingly anti–rock 'n' roll, despite the caliber and pedigree of its players.
Originally formulated as a live band to support Yorke's 2006 solo album, The Eraser, Atoms have since grown into a musical beast all their own, and as of this year, they've even got an album to show for it. In February, the band unveiled Amok, a stunning aural offering that took Yorke and Godrich more than two years to record, edit, arrange, and assemble. And though Yorke's unmistakably haunting vocals preside over all of the record's nine tracks, the end result is a far cry from Radiohead's signature balance of layered beats and chest-pounding guitars. Yorke points to Afrobeat as the driving force behind Atoms' sound and has gone so far as to call Amok "the product of getting together, getting wasted, and listening to Fela Kuti."
As such, the record plays out like a weirdo hybrid of industrial minimalism and transcendental world music: part electronic, part man-made, and all refreshingly organic sounding. "The music I do on my laptop is so angular. When you get people to play like that, it's so peculiar. Most of it, technically speaking, they can play. But there were times when we used the electronic sounds, because it was more brittle, more exciting," Yorke told Rolling Stone earlier this year. "One of the things we were most excited about was ending up with a record where you weren't quite sure where the human starts and the machine ends."
What ends up standing out most, surprisingly, is not Yorke's voice, but the strangely syncopated, amniotic world in which it exists. On "Dropped," a heart-skipping beat creates the backbone; for "Unless," a reverb-drenched organ tone threatens to envelope the whole thing in its warm, toneless blanket; later, "Stuck Together Pieces" seems to employ this subtle, static-y jangle as its unnerving guide. And then there's "Reverse Running," which poetically plops a sitar atop a simple but driving collection of electronic percussion.
This Thursday, October 17, Atoms for Peace make their triumphant return to the Santa Barbara Bowl (a favorite venue of Yorke's). For those who have caught Radiohead live, you know that no expense will be spared; think intricately timed video projections, mind-melting lighting rigs, and all sorts of neat mood-setting tricks. As for the uninitiated, just know that few concert experiences compare.
Atoms for Peace play the Santa Barbara Bowl (1122 N. Milpas St.) on Thursday, October 17, at 7 p.m. with opener James Holden. For tickets and info, call (805) 962-7411 or visit sbbowl.com.
ALSO THIS WEEK: In the midst of all this New Noise hubbub, we can't forget to tip our hat to UCSB alum and S.B. regular Jack Johnson, who returns to town this Sunday, October 20, for a hometown show in support of his most recent release, From Here to Now to You. Like past efforts, the album is brimming with the kind of sweet, sleepy acoustic folk that's helped make Johnson a household name. Even longtime buddy Ben Harper shows up for a cameo. (Let the rumors of an S.B. onstage collabo start now.) The surf-loving troubadour takes to the stage at the Arlington Theatre (1317 State St.) at 7:30 p.m. with opener Bahamas. For tickets and info, call (805) 963-4408 or visit thearlingtontheatre.com.