Arts & Entertainment
The Silk Road Ensemble
UCSB Arts and Lectures Presented the Silk Road Ensemble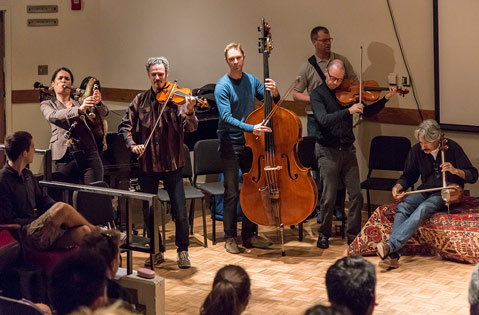 Whenever the Silk Road Ensemble gets together, whether it's with Yo-Yo Ma, or, as in this case, "No-Yo," the music combines range and integrity. Creating hybrid musical forms that bridge the gaps between classical and popular and eastern and western traditions is much harder than it looks, yet this group does so with an enviable consistency. On Thursday, October 24, at Campbell Hall, the most forceful players in the opening number were the last to come onstage. As the first nine members of the ensemble crafted a delicious drone for them, the gaita-playing Cristina Pato entered stage right and the shakuhachi-playing Kojiro Umezaki entered from the left. They met in the middle for the wild, caterwauling duet of cadenzas that marks the climax of "Caronte," the first movement of the Silk Road Suite. The exchange had all the heated expressionism and chromatic density of free jazz, but was warmed by the presence of the pulsing strings played by Jeffrey Beecher, bass; Mike Block, cello; Nicholas Cords, viola; Johnny Gandelsman, violin; Colin Jacobsen, violin; and Kayhan Kalhor, kamancheh. In the second movement, "Saidi Swing," the percussion section of Joseph Gramley, Sandeep Das, and Shane Shanahan took over, and in the final section, "Arabian Waltz," all the many facets of this unusual grouping of instruments got a workout, as the European waltz was transformed through composer Rabih Abou-Khalil's additive rhythms and the bright melodies the musicians improvised within them.
The group continued with "Atashgah," Colin Jacobsen's fascinating composition for string quartet and kamancheh, a piece that was first heard in Campbell Hall back in 2011 during a memorable concert by Jacobsen's other group, Brooklyn Rider. It's a tour de force of next-wave writing for strings, opening in an idiom that recalls classic rock and modulating through Persian developments toward the Romantic side of classical. Very few composers are in a position to write music like this, and there's probably not another group in the world that could play it. That said, "Atashgah" is magnificent and as much fun to ponder as it is to hear. Wait another 15 years and there may be other pieces like it — one can always hope.
Cellist Mike Block makes a sensational addition to the Silk Road Ensemble. Block is the only cellist I know of who plays his instrument by strapping it over his shoulder like a guitar. It's an odd looking arrangement that actually requires two straps and a support — Block's block — but it yields very impressive results. Block was featured twice, beginning on the first set's closer, a piece called "Celtibera" that began in Scotland with Block's cello, only to finish in Spain with the wailing of Cristina Pato's gaita, which is a kind of Galician bagpipe. Block's second solo came after the intermission and after star turns by Kayhan Kalhor and Sandeep Das, who played a lovely and intuitive improvisation. Block took the rather daring challenge of following Kalhor by improvising his own cello accompaniment to Das's tablas, and it rocked.
The best, however, was reserved for last, as the group played a suite of four works from John Zorn's Book of Angels. Zorn is one of the few composers around whose music actually requires all of what the Silk Road Ensemble can do, and these amazing "Angels" of music proved that; for this unique group, there really are no boundaries, only connections.