Bottles & Barrels
Happy Days for Fieldhand-Turned-Winemaker
Felipe Hernandez's Feliz Noche Wines Enjoyed from Santa Ynez to Manhattan
At home in the Santa Ynez Valley, Felipe Hernandez is a stout, handsome, happy man in a broad white cowboy hat, sun-blanched blue jeans, and a faded workshirt whose buttons struggle valiantly to hold his rounded belly in abeyance.
Three thousand miles away, at 370 Park Avenue in the heart of New York City, the Manhattan Racquet & Tennis Club's members comprise the tippity-top of the East Coast's cork-sniffing social register. Were Hernandez to stroll into the joint, the staring power-lunchers would — in between their delicately aerated sips of his celebrated Feliz Noche wines that appear on the menu — surely summon security with snapped fingers. Our rambling and eccentric Santa Ynez Valley has thus infiltrated Old New York's cuff-link crowd like a Trojan horse; or Trojan emu, as it were. Hernandez, a former fugitive, has done well.
"I cannot have a better feeling than what I have," he says of his life. "I can tell you this much."
In 1972, the "Me Decade" was just getting underway and so was Felipe Hernandez. He left the sun-baked little village of Casablanca in distant Jalisco, Mexico, and began a furtive, 1,700-mile journey northward to the unknown. He was all of 16. "When I left, I was just a kid," he said. "I'd never been out of my house, my village, in my whole life."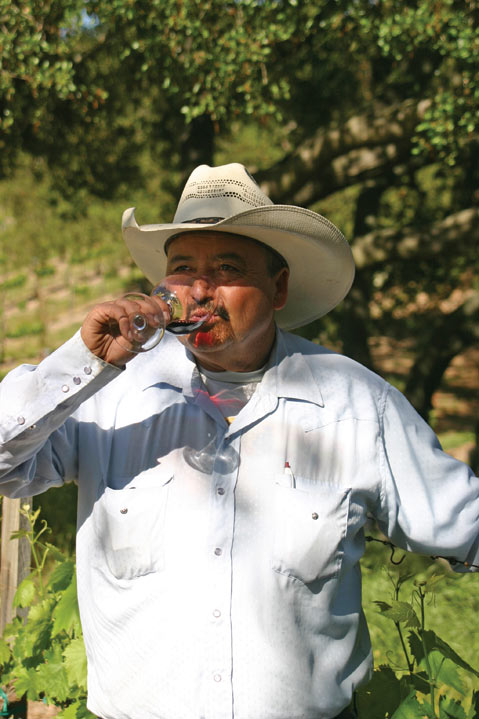 Dehydrated, exhausted, and starved, Hernandez and his cousin reached the lightly defended border after many days of travel on foot and otherwise. They waited 'til evening, gathered their courage, and crossed. Thus, historically, are empires born. Some days later, Hernandez arrived in Santa Ynez. He's never left.
He began as a field worker, planting grapes. In short order, he began to absorb more than the requisite knowledge of a field hand and found, to his surprise, he had an aptitude for the celebrated berry. By 1977, his talents had become manifest and he was given several parcels to manage.
That year was a watershed. With the laudable blessing of his bosses, Hernandez enthusiastically began to experiment with winemaking. Many false starts and large dumps of palate-punishing juice later, he produced a drinkable zinfandel that stunned the locals. Fueled by the fulsome praise of his friends and neighbors, he took off like a bottle rocket.
Today, Hernandez is an adored, near-legendary vintner in Santa Ynez, his story another star on the flag of immigrant-American affirmation. His label, Feliz Noche, produces a cabernet sauvignon, a syrah, a riesling, a pinot noir, and a bottled ambrosia called Mi Pasión. These limited-run wines are high-endish and served in certain tony eateries whose monied, right-leaning patrons would likely not endorse Hernandez's border-jumping and subsequent sideways entry into entrepreneurial largesse and, yeah, American citizenship. No matter.
"I smile a lot. I'm a happy man," said Hernandez. "I met my wife in the U.S. and we've got amazing kids, and she's a wonderful, wonderful woman. So what can I tell you. It's been a good journey for me here in this country."
* The original and longer version of this story was published by Mission & State. See missionandstate.org.
4•1•1
Felipe Hernandez was one of the original supporters of the Santa Ynez Valley People Helping People's annual Vino de Sueños benefit, in which wineries produce special bottlings to benefit the farmworker community. This year's event is on November 2 at the Marriott in Buellton. Tickets are $50. See vinodesuenos.com or call (805) 686-0295.