News
What's for Dinner
What Are You Feeding Your Pet?
Last week, federal animal health officials confirmed that 600 pets have died and more then 3,000 have been sickened in an ongoing, mysterious outbreak linked to jerky treats made in China. Although there's been no official recall, according to NBC News, the majority of the cases cited Waggin' Train or Canyon Creek Ranch jerky treats or tenders, both produced by Nestle Purina PetCare Company. This is just one example of a pet food product that has sickened pets. A few years ago, thousands of pets died from kidney failure after eating tainted wet cat and dog food. Several major companies recalled more than 5,300 pet food products due to melamine contamination.
Examples like these understandably lead pet owners to worry about what they are feeding their pet. Each year, $47 billion worth of pet products and pet services are sold and half of that goes to pet food. With all the choices that are available these days–from organic and all-natural commercial foods to home cooked or frozen foods–the decision about what kind of food to buy for your pet can be baffling. Food nutrition experts say pets can flourish on many diets, though they all require the same nutrients: carbohydrates, protein, vitamins, minerals, amino acids, and fatty acids. So if your pet eats a variety of meat, dairy, fruit, vegetables, and grains, you will have a healthy pet.
Most commercial pet foods provide complete nutrition in one package. The FDA and the American Association of Feed Control Officials regulate pet food. That being said, commercial pet food is largely comprised of ingredients that humans wouldn't eat. If you see the word "chicken" on your pet food label, that usually means deboned necks, backs, or wings. "Chicken meal" includes any leftover parts of the animal that have been rendered, dried, and ground. "By-products" mean brain, kidneys, lungs, intestines, and sometimes bones.
Some pet owners go the extra mile and make their pet's food. Many of the homemade pet foods include raw foods. This raw food diet is quite controversial. Proponents argue that raw food diets are healthiest for pets as this is what dogs and cats would eat in the wild. Opponents feel a raw diet is dangerous and can easily become contaminated. The FDA has stated that feeding raw meat to animals puts the public at risk since not only might your dog or cat get sick from salmonella or E. coli in raw food, but while preparing their meal, you could get sick too.
An issue surrounding cat food is whether to feed your cat dry kibble versus wet food. I spoke with Mike Palmer, owner of Premier Pet Supply, who advocates for a wet diet for cats. According to Palmer, "Dry kibble is a man-made creation that usually misrepresents an ideal ratio of proteins and moisture that is required to sustain a long, healthy life. Unfortunately, a majority of these dry food diets are way too high in carbohydrates and way too low in water content. The issue is that cats are strict carnivores and also have a low thirst drive. A cats' normal prey contains approximately 70-75 percent water. Dry foods only contain 7-10 percent water whereas canned foods contain approximately 78 percent water. Canned foods therefore more closely approximate the natural diet of the cat and are better suited to meet the cat's water needs." If you still choose to feed your cats dry food, be sure to monitor their water intake. There are water fountains on the market that simulate a running faucet that may entice your cat to drink more than they would from a water bowl.
Whether you feed commercial or homemade, many pet owners credit better ingredients with helping their animals live longer and make less trips to the veterinarian. Here are a few guidelines that experts recommend when choosing a pet food:
Ÿ Look for the named meat or fish to be the first ingredient (chicken, turkey, beef, herring, salmon, etc.) and avoid unnamed food ingredients (by-products, bone meal) and protein fillers (corn gluten meal, wheat gluten).
Ÿ Look for whole grains (rice, barely, oatmeal) and fruits and vegetables (potatoes, carrots, peas, apples, sweet potatoes, etc.) and avoid grain remnants, such as highly processed flours.
Ÿ Look for named fats from quality sources (chicken fat, lamb fat, sunflower oil, herring oil, etc) and avoid fats from non-specific sources (animal fat, poultry fat and vegetable oil)
If you're looking for a healthy commercial food to feed your pet, some great brands are Wellness, Karma, California Natural, Healthwise, Innova. and Wysong. If you do decide to switch your pet to a new food, veterinarians recommend transitioning to the new food gradually since changing foods abruptly can lead to vomiting or diarrhea. For example, if your pet usually eats 1 cup of food, start by replacing ¼ cup of food with the new food and increase this by ¼ cup every three days. If your pet develops diarrhea, stretch the transition out over a month.
The FDA website to check on any recall: fda.gov/AnimalVeterinary/SafetyHealth
Take your pet to the veterinarian immediately if you suspect your pet has been poisoned by food. Signs of poisoning include:
Ÿ Lethargy (severe fatigue, sluggishness or stupor)
Ÿ Fever
Ÿ Gastrointestinal problems such as diarrhea or vomiting
Other common signs that can suggest kidney distress or failure include:
Ÿ Severe thirst
Ÿ Frequent urination
Ÿ Increased urine
If you have a pet, then you appreciate the love and companionship they provide you; so please return the favor and make sure you are feeding them healthy and well-balanced meals consisting of real food, not food by products.
Adoptable Pet of the Week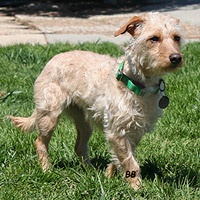 Minnie is a year old 14-pound female terrier/doxie mix. She's a pretty, light caramel colored dog with curly hair. Anyone who admires the terrier's tenacity, determination, and independent thinking will love this girl. She gets along well with other big dogs; but is tentative with people until she gets to know them, then she is a total sweetheart. She is quick to voice her opinions and desires, quite a little communicator. She enjoys company around her, and is too sociable to be happy staying home alone all day. Minnie would be best in a home with young adults and another big dog friend! She's a sweet heart who has been looking for her forever home just too long! Come to meet Minnie at DAWG
DAWG (Dog Adoption and Welfare Group) is a no-kill not for profit dog rescue/adoption organization. All of the dogs have been spayed/neutered, micro-chipped, are current on their shots, and have flea/tick/mosquito protection. We ask for a minimum adoption donation of $250 for young dogs (under three years), $150 for adult dogs, and $125 for seniors (dogs 8 years old and over).
You can view more adoptable dogs at www.sbdawg.org. For more information on our available dogs, call (805) 681-0561; email adopt@sbdawg.org; or come by 5480 Overpass Rd. during open adoption hours, Thursday-Monday, 12 p.m.-5 p.m.