News
Pedaling with Illumination
LEDs and Lasers Make Night Cycling Safer
I spent hours as a child in dentist and doctor's waiting rooms across central New Jersey looking at Highlights magazine for children. Sure, I liked What's Wrong with This Picture, The Timbertoes, The Bear Family, and Hidden Pictures. But my favorite page was always Goofus and Gallant. They pictures were in black and white with turquoise-blue captions. I knew that Gallant was a young gentleman (like I was supposed to be), but, boy, oh boy, I always wanted to be or have edgy, socially incorrect Goofus as my friend.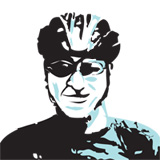 If Goofus and Gallant were cyclists, I could imagine that Goofus would say: "Who needs lights when I ride at night in my black hoodie?" Gallant would respond: "Lights keep me safe by letting motorists see me at night." Gallant would know that in California, front lights and rear reflectors are a legal requirement on all bicycles. Gallant would wear a reflector vest so that motorists could see him on dark streets.
Most cyclists want to be safe riding at night. Not everyone can afford bike lights. I've seen some innovative bike lights on the streets of Santa Barbara. I know that an iPhone is a terrific smartphone. Who knew that it also makes a great bike light when you turn on the flashlight! Or if you have an old flashlight — tape it to the stem of your bike!
To help low-income cyclists who need to ride early in the morning or at night and can't afford lights, communities across the country have started free light giveaway projects. Giving away simple LED lights is one way to significantly enhance the safety of cyclists in the dark. From San Francisco to Pittsburgh, lights save lives.
For the third year in a row the Santa Barbara Bicycle Coalition's Spanish Language Outreach Committee with the support of the City of Santa Barbara and Measure A funding sponsored Illuminando la Noche. In early November, as the days grow shorter and chillier and we turn our clocks back for the fall, cyclists help other cyclists by handing out lights. This year in Goleta and Carpinteria, and on State Street and Milpas, teams of dedicated volunteers asked low-income cyclists without bike lights to stop, fill out a short survey, and in return get a free set of front and rear LED lights. Volunteers handed out 700 sets of lights from November 4- 8 and almost 2,000 sets of lights since 2011. Lights make the invisible cyclists in our community visible at night.
I recently rolled by the downtown Luces Gratis event. Cyclists were lined up waiting as Carmen Lozano, the chair of the Spanish Language Outreach Committee, and 10 volunteers talked about bike safety and put lights on their bikes. Within two hours, 200 sets of lights were lighting up the night, and everyone rode off with a smile!
Many different conventional front and rear bike lights are available at your local bike shop or online. Last year's Pedal On column "The Illuminated Cyclist" has some recommendations, too.
Some new bike light concepts have been invented that are designed to make cyclists visible. The Blaze looks like the standard light you have clamped onto your handlebars. Unlike a traditional light The Blaze also projects a green laser image up to 15 feet in front of your bicycle to help make you visible to motorists and pedestrians. Emily Brooke, a U.K. physics student, wanted to solve the problem of motorists sideswiping bicyclists riding in their blind spots. The Blaze is a front-mounted light powered by bright LEDs that also projects an image of a bicycle onto the road to let motorists know a cyclist is coming. The Blaze is still being prototyped and tested on Kickstarter but will it not be a low-cost light for the masses.
Some lower-cost LED laser rear lights have recently hit the market. The Korean company Slancio makes a cool rear blinky that includes a set of bright flashing red LEDs and a pair of lasers. The lasers project thin red lines on the road on either side of your bike that add to your visibility at night. It's a brilliant idea that's made all the more amazing by the $20 price tag.
Revolights attach to front and rear wheels and are designed to brightly illuminate the road. Unlike other wheel lights that circle the rim and are always on, Revolights are activated by a small magnet mounted on the front fork and rear chain stay. They only light up when they are pointing toward the front or rear of the bike. Revolights provide a 360-degree light that makes you more visible to cars from the sides. You can buy them as a DIY kit that can quickly be installed on your bike, or you can purchase wheel sets with built-in lights.
Just as motorists put on seat belts, Gallant cyclists put on a helmet and turn on their lights at night. Bike lights will continue to improve, but many cyclists believe that while technology can make cycling safer, the fundamental change is one of attitude and behaviors. Getting drivers to pay attention and slow down, especially at night, would significantly reduce accidents and injuries. That's another battle for another day. For tonight, let's all be Gallant cyclists and turn on our lights. Together, we'll illuminando la noche!